We were first introduced to the otherworldly ginger goodness that is Jordan Askill at Gemfields, where this Aussie sculptor/designer created a to-die-for amethyst swallow collar and brooch that took our breath away. We're going to assume that Georg Jensen also saw that whimsical masterpiece, because they scooped him up for an exclusive collaboration that launches this month, and we have the goods to show you. If you weren't aware, the Danish design house, now more than 100 years old, has a long and prolific history of partnering with big names to produce artistic jewelry and home collections (see Marc Newson and Ilse Crawford among many others). Jordan's multi-disciplinary background was a perfect fit – the award-winning designer (who now resides in NYC) developed his own ready-to-wear line while working at Ksubi denim, and has also worked for Dior Homme and Alexander McQueen – and his sculptural aesthetic was a match for Jensen's Art Nouveau sensibilities. The result is a gorgeous collection based on the butterfly, rendered in sterling silver and featuring limited edition pieces in black rhodium and black diamonds. If that's not enough, we also have a peek at Jordan's newest pieces from his eponymous line that take inspiration from the endangered Violet Canadensis flower and a fierce panther. Read on for the interview and images!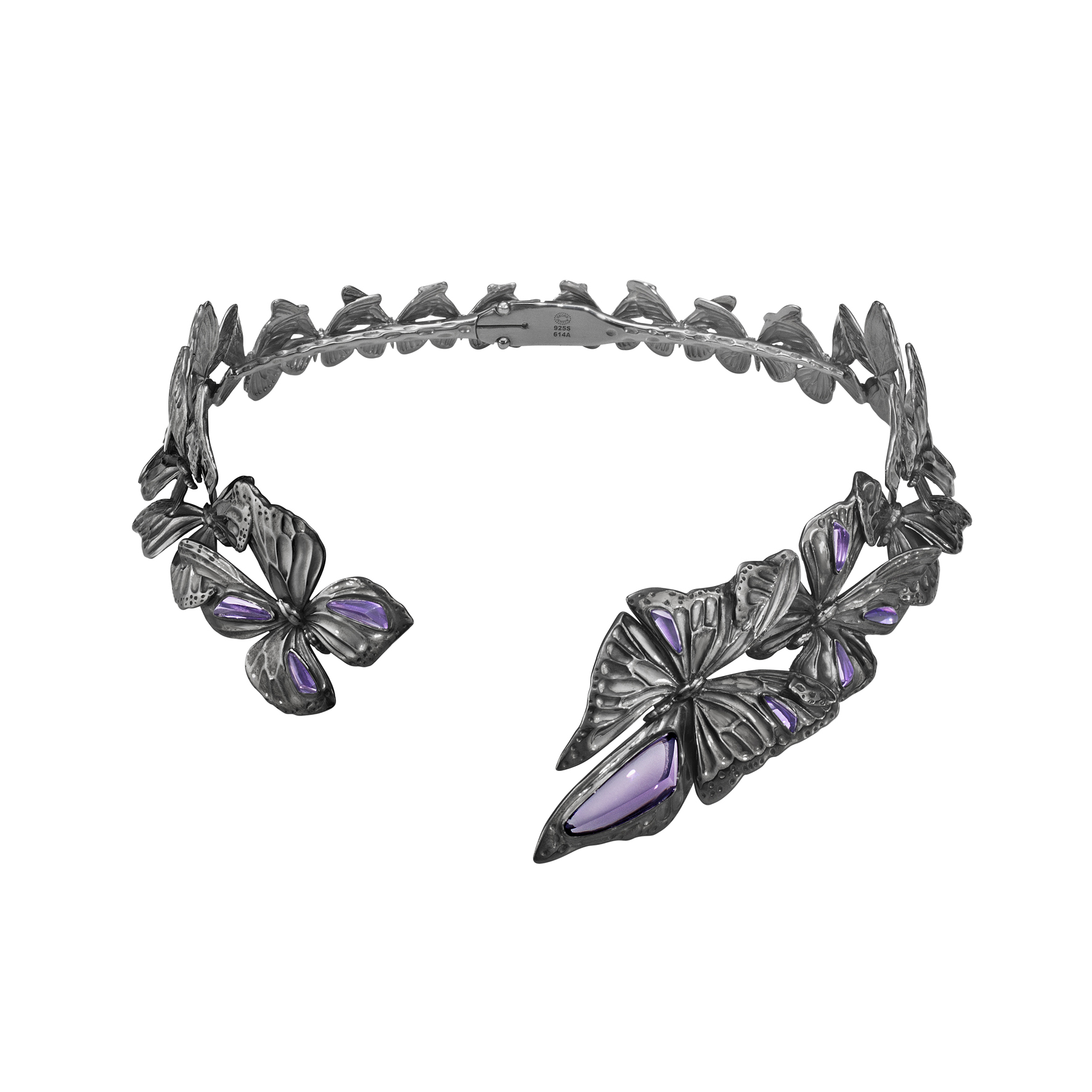 Let's have dinner at your favorite neighborhood restaurant. Where do we go and what do we eat?

I love The Boat House in Central Park on a quiet evening.
If you could buy any piece of contemporary jewelry from another jeweler, what would it be?

I would love to own a piece from Noor Fares or Fernando Jorge.
The vacation spot that you keep going back to over and over?
Capri
What's the last book you couldn't put down?
"The Sixth Extinction" by Elizabeth Kolbert
What's your go–to cocktail?
Fresh coconut water
The gemstone you're currently lusting after is . . .
Hand-carved blue Tanzanite
What's your favorite piece that you made in the last year and why?
A hand-carved Cocholong Panther Neckpiece with Bespoke Faceted Rock Crystal and Diamonds. The tonal journey for me of the eye clear rock crystal alongside the carved Cocholong is quite beautiful.
You have 30 minutes to work out – what do you do?
Run!
What was the first piece of jewelry/watch you bought for yourself?
The last piece I bought was an Etruscan revival bracelet. It was 18kt gold with two Chimera heads and ruby eyes.
If you could have dinner with any artist, living or dead, who would it be and why?
Jeff Koons and Elizabeth Taylor.

What's the most sentimental piece of jewelry you own and tell us the back story.
The most sentimental piece of jewelry I own is a simple open-heart ring. I made this for my friends 7 years ago as a thank you for being there for me and a gesture of love, having spent time living away from them. It slowly made its way into my collection and to retail, as every one wanted one. We have developed thousands of these and what I love is they have been bought and swapped as gifts for friends and loved ones ever since. I love this journey.

What's your preferred mode of transportation day-to-day?
I like to walk. It helps settle me.
Top 5 bands in your playlist - go!
Joni Mitchell
Chet Baker
Bjork
Chris Isaak
Philip Glass

Be honest – who's your celebrity crush?!
Lily-Rose Depp
What's your dream watch to own?
A never-worn Vintage Rolex.
What's your favorite piece of technology and why?
3D software which I use to create my jewelry and sculpture and of course, the iPhone.