The first time we met Greek-born Nikos Koulis at Couture in Las Vegas, we fell a little bit in love. And that was before we even saw any of his jewels. But, oh, the jewels! Geometric, futuristic and exceedingly vibrant, each piece made us feel a little like we were seeing precious gems for the first time. We're eagerly anticipating our invitation to the Aegean Seaside so we can hop in his Mini Cooper and see what's inspiring him to create such lust-worthy jewels.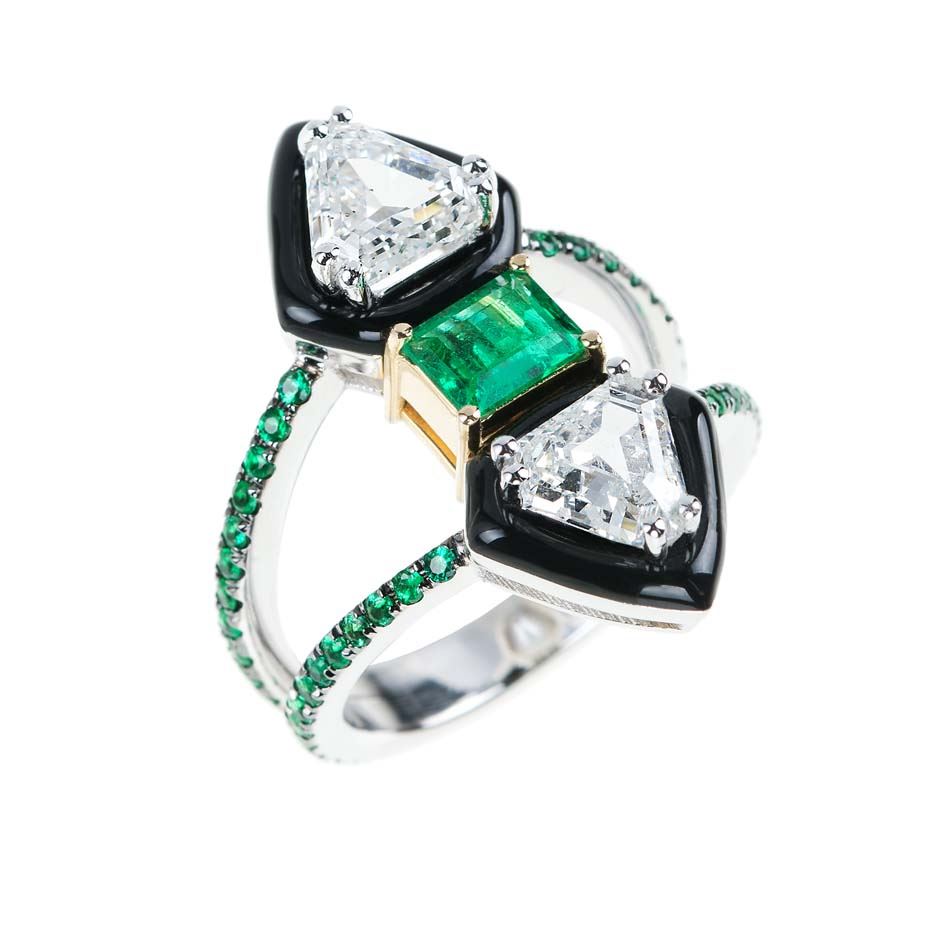 Let's have dinner at your favorite neighborhood restaurant. Where do we go and what do we eat?
My favorite restaurant in Athens is one that could be in any city of the world: it's been there for 30 years, it has the same mix & match artistic decoration, the same top quality and the same beautiful people. Every year it introduces a new dish, it adds a new deco item - usually an artifact given to the legendary owner and they plays fantastic music, bit retro but still so fresh! We eat green salad with the Aegina pistachio, a fantastic kind of nut, and then boiled fish that comes wrapped in banana leaf. Otherwise, pasta with sea urchin. You 'll become a fan!
If you could buy any piece of contemporary jewelry from another jeweler, what would it be?
Anything from the Tool Chest Collection of David Webb. I admire his craftsmanship and aesthetic signature over the years.
The vacation spot that you keep going back to over and over?
Any island off the beaten track in the Aegean sea. The light, the sea, the people, the food, the big blue; they are all sources of inspiration and gratitude for me.

What's the last book you couldn't put down?
All of Haruki Murakami.

What's your go-to cocktail?
I prefer vodka with ice, not anything too fancy.

The gemstone you're currently lusting after is . . .
I can easily fall in love depending on what I find, but I always return to my favorite emeralds. I love them most because they can never be perfect!

What's your favorite piece that you made in the last year and why?
I could say that this bracelet with white diamonds and emeralds from Universe Line, where I present statement pieces. What I love most about it, it's that you see something different from each side and it has a very interesting geometry.

You have 30 minutes to work out – what do you do?
Yoga, to decompress from my day.
What was the first piece of jewelry you bought for yourself?
A pair of vintage cufflinks with red spinel.
If you could have dinner with any artist, living or dead, who would it be and why?
I would choose Plato, the ultimate artist of thought…so many things to ask about life, ethics and indulgence.


What's your preferred mode of transportation day-to-day?
My car, where I listen to my favorite music really loud! I drive a Mini Cooper with sunroof to enjoy the Athenian sun.

Top 5 bands in your playlist - go!
I 've got quite a diverse favorite playlist: Florence and the Machine, Annie Lennox, Massive Attack, the Roots and Manos Hatzidakis, my favorite Greek composer.

You're having guests for the weekend. What's your signature dish that you cook for them?
It depends on my mood! I love to cook for my friends Greek traditional food for my friends; they usually crave my beef with lemon with a side of rice with leek.
Be honest – who's your celebrity crush?!
I really don't have one. I would like just to be a part of 'Lo Sono L'amore', an Italian film with Tilda Swinton: iconic settings, photography, costumes and formidable acting.
What's your dream watch to own?
I own it already: a Vacheron Constantin Patrimony in rose gold. These days the Patek Philippe Nautilus with blue leather strap and calibrated baguettes that I saw at Baselworld is stuck in my mind.


What's your favorite piece of technology and why?
I'm not a gadget fan, my iPhone does everything that I 'm asking from technology!

If you could sit front row at any fashion show, which would it be and why?
Dries Van Noten, because he has always compelling aesthetic stories to share.

Tell us your grooming secrets (think: any skincare products or salons you love?)
Not many secrets to share actually: just my beard conditioner!