I think we can safely say that Alexandra Mor is really on a roll. After being awarded Fashion Group International's Rising Star award in 2013, she launched a series of limited edition pieces with iconic New York City retailer Bergdorf Goodman earlier this year. And let's not forget her first retail concept – a salon at prestigious Dorfman Jewelers in Boston – now home to one-of-a-kind treasures and offering clients a chance to consult with the designer on a custom creation. The thing about Alexandra is this: you may see a picture of her, and then one of her larger-than-life gemstone encrusted pieces, and think, 'This lady is too classy for me. Too perfect. Am I worthy?' Then, you meet her. While she does look like a supermodel in person, she's also warm, thoughtful, and exceptionally passionate about her work and her family. (She comes from a line of French/Israeli couturiers, and married into her husband's family diamond business, Abe Mor.) Every haute couture piece is made in NYC, with exceptional gemstones, and most incorporate signatures like knife-edged wire, yellow gold interiors and her elegant AM logo. You'll just have to trust us on this one, we're all worthy of exceptional jewelry like Alexandra's.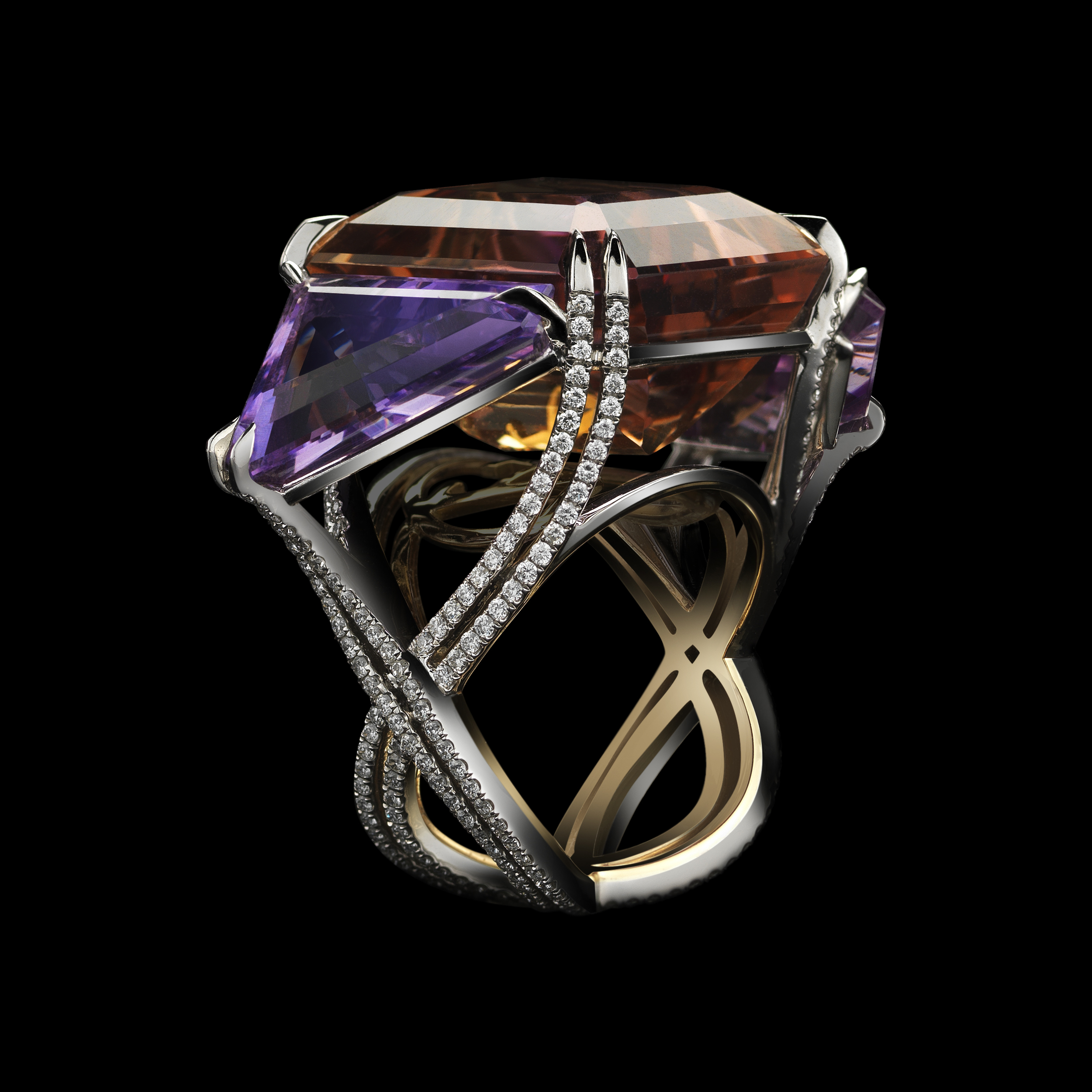 Let's have dinner at your favorite neighborhood restaurant. Where do we go and what do we eat?
Can I choose two? This is a hard question – there are so many amazing restaurants in NYC. My all-time favorite is Hatsuhana on East 48th, an old-school sushi place. I like to have dinner at the bar. I order the Chefs Choice, and he always surprises me with a phenomenal dish. My new obsession is Bustan, on West 83rd Street. They have an exquisite wine selection, with my favorite Rosé and the most delicious oven-made bread.
If you could buy any piece of contemporary jewelry from another jeweler, what would it be?
Claudio Pino. I love the playfulness of his work, it's daring and colorful and very futuristic.
The vacation spot that you keep going back to over and over?
Sagaponack, NY. It reminds me of home.
What's the last book you couldn't put down?
'Losing My Virginity: How I Survived, Had Fun, and Made a Fortune Doing Business My Way' by Richard Branson. I started reading it to understand more about my son's world (much of Branson's story is based on his childhood and boyhood) and discovered so many extra brilliant layers to it, which also inspires me as an entrepreneur.
What's your go–to cocktail?
Mojito, with plenty of salt.
The gemstone you're currently lusting after is . . .
Opal! Green Opal, Pink Opal, Multicolor Opal.
It's your birthday and your favorite flower arrangement arrives – what does it look like?
Wild orchids.
What's your favorite piece that you made in the last year and why?
My one-of-a-kind Diamond and Opal Branch Cuff Bracelet.
You have 30 minutes to work out – what do you do?
A set of Kacy Duke exercises. Since we started working together I treat my body in a whole different way. I learned to respect it, really love it and take care of it with both the food that I eat (I used to eat everything!) and my intention during my workout. It is a whole new experience and has an overall effect on my daily life.
What was the first piece of jewelry you bought for yourself?
I was nine years old and lightning earrings were the latest fashion trend. I only had enough for one earring (thankfully it was the '80s so it worked). It was three inches long and pink.
If you could have dinner with any artist, living or dead, who would it be and why?
Martha Graham. She was an inspiring woman, who dedicated her life to what she loved doing most and consistently explored into her work all elements and aspects of being human. Her work is a combination of past, present, and future that dares to collaborate with other artists and incorporate materials and language from other genres. My favorite quote of hers: "Great dancers are not great because of their technique, they are great because of their passion." I believe this to be true of everything one does in life.
What's the most sentimental piece of jewelry you own and tell us the back story.
My grandmother's gold watch. I still have it, although it is a bit small and I can't wear it. She got it from my mom's brother after World War II and after she passed away, my mom inherited it. Before I left to come to New York, she gave it to me.
What's your preferred mode of transportation day-to-day?
I love the train. It's my new obsession.
Top 5 bands in your playlist - go!
Coldplay, Eagles, Guns N' Roses, Maroon 5, Genesis.
You're having guests for the weekend. What's your signature dish that you cook?
Chicken Tagine in wine with spicy olives.
Be honest – who's your celebrity crush?!
Sean Connery as James Bond.
If you could only carry one handbag for the rest of your life, what would it be?
Chanel 2.55 Flap. It's a classic and works with everything. You can dress it up or dress it down.
What's your signature scent and what three words would you use to describe it?
Chanel No. 5. Feminine. Independent. Sensual.
If you could sit front row at any fashion show, which would it be and why?
Haider Ackermann. The clothes he designs are architectural works of art, meticulously designed. I love the structures he creates of layering, colors and textures. He is a true artist, and his soul comes out very clearly in his work, and represents all that he is and his heritage. If I were to choose someone to collaborate with, he would be my number one choice.
Tell us your beauty secrets (think: can't-live-without makeup and skincare)
Snow. I love rubbing snow on my face, after taking a morning shower. It's refreshing and freshening. When it is not snowing, I will use ice.
Signature nail polish and/or lipstick shade for a night on the town?