Look, we like old things. That means we rarely care about an "it" bag or a gotta-have-it stiletto. But we must admit, the brilliant jewelry line Venyx keeps popping up on our radar as one of the coolest brands of the year. Started just two years ago by the Parisian-bred beauty Eugenie Niarchos (yes, that Niarchos, of the Greek shipping family), the collection has a little bit of everything we love: a glimpse into the past, a look towards the future and some far-out fine jewels that are at once of-the-moment and heirloom-worthy. She may have gotten her professional start in the hallowed halls of French Vogue, but after training at the Gemological Institute of America in London and undertaking a collaboration with Repossi at just 19 years old, precious gems and metals took top priority. And for that, we are most thankful.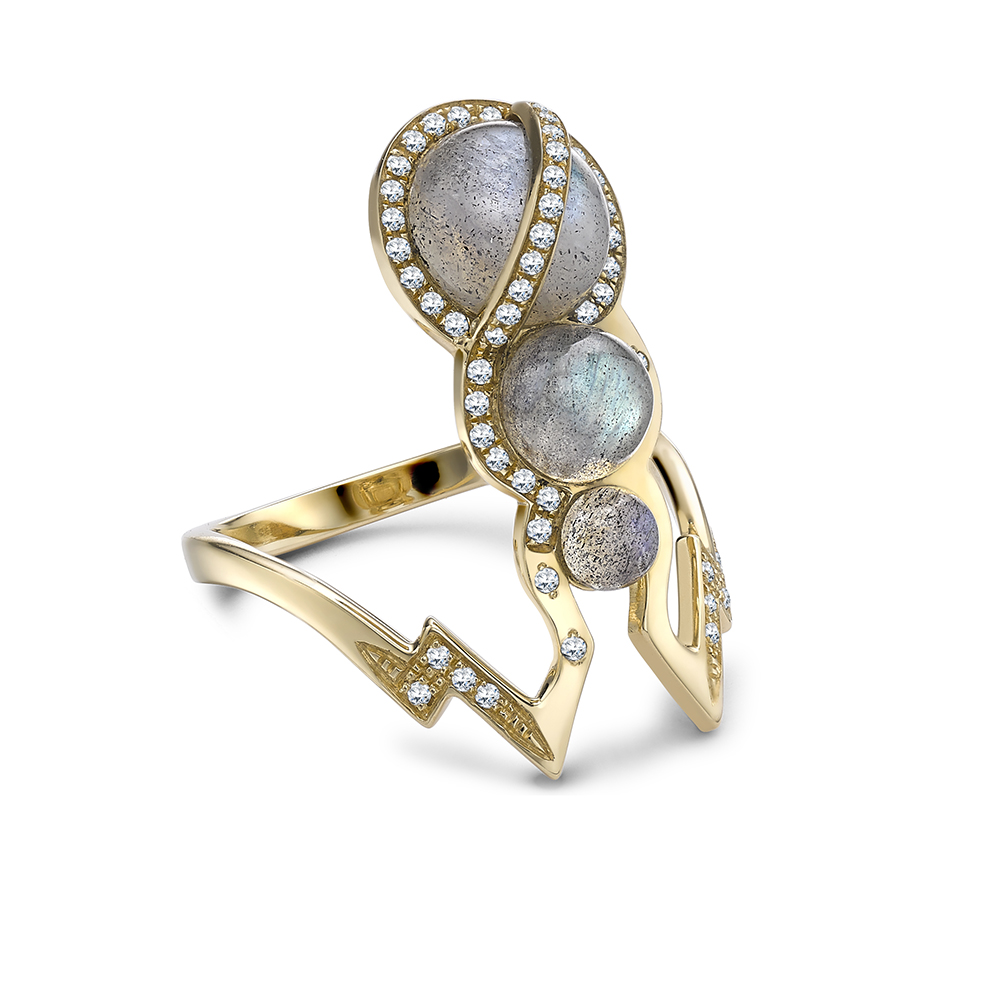 Let's have dinner at your favorite neighborhood restaurant. Where do we go and what do we eat?
Gymkhana – a new Indian restaurant in Mayfair. I love the food and the ambiance. I feel like I have been transported back to India. My favorite place.

If you could buy any piece of contemporary jewelry from another jeweler, what would it be?
I love the jewelry that my friend Noor Fares designs. It's contemporary and edgy. Its the sort of jewelry that you can wear day and night and with everything.
 

The vacation spot that you keep going back to over and over?
I love traveling to new places and experiencing new cultures but I always end up going to the Greek islands at some point in the summer. This year I'll be spending a lot of time in Mykonos because I will have a pop up shop at the Belvedere Hotel for the summer.
 

What's the last book you couldn't put down?
Thrive by Arianna Huffington. She is a very inspiring person.
 

What's your go–to cocktail?
An extra spicy margarita.


The gemstone you're currently lusting after is . . .
Rainbow Moonstone, because its my birthstone, but I am also obsessed with Moss Agate.
 

It's your birthday and your favorite flower arrangement arrives – what does it look like?
Light pink and red garden roses with prickly blue thistle blossom flowers.


What's your favorite piece that you made in the last year and why?
The Theiya Obscura three-stone labradorite ring. It's a ring with three graduated stones which looks like the progression of a meteorite.
 

You have 30 minutes to work out – what do you do?
Ballet Beautiful workout on Apple TV.
 

What was the first piece of jewelry you bought for yourself?
A vintage Cartier Art Deco Moonstone ring. I had my eye on it for a while and I don't regret buying it. It's a combination of all my favorite things: a moonstone, the Art Deco period and vintage Cartier!


If you could have dinner with any artist, living or dead, who would it be and why?
Vincent Van Gogh. I would have loved to understand how he envisioned color.
 

What's the most sentimental piece of jewelry you own and tell us the back story.
The cross I received on my christening with my name engraved on it. I guess it's my first piece of jewelry so it really has a special meaning. I have also inherited a blue enamel snake bracelet from the 19th Century which belonged to my Great Grandmother.
 

What's your preferred mode of transportation day-to-day?
Walking is my favorite! I love observing all the buildings and people. If not, I choose to take a black taxi. The black cabs in London are so great, they know every street and are so comfortable.
 

Top 5 bands in your playlist - go!
The Beatles, Ravi Shankar, Air,Thievery Corporation, Bob Marley and the Wailers.
 

You're having guests for the weekend. What's your signature dish that you cook?
A chicken curry and Indian lentils.
 

Be honest – who's your celebrity crush?!
Sean Connery! I am obsessed with James Bond and he was the best.
 

If you could only carry one handbag for the rest of your life, what would it be?
A Colombian Mochila bag by Muzungu Sisters. Its so easy to travel with and it makes a dressy outfit look more relaxed, it fits a lot of things and its comfortable to carry!

What's your signature scent and what three words would you use to describe it?
Fleurs d'oranger by Serge Lutens. Floral, feminine and exotic.
If you could sit front row at any fashion show, which would it be and why?
I would have loved to sit front row at a Gianni Versace Haute Couture show at its heyday in the '90s with the original supermodels. He was a genius.
 

Tell us your beauty secrets.
I can't live without french pharmacy products such as CicaBiafine body cream and Bioderma face wash. I love the face creams from my dermatologist, Dr. Kassimir.
 

Signature nail polish and/or lipstick shade for a night on the town?
Ruby Woo lipstick by MAC and Big Apple Red nail polish by OPI.