Hi Thursday! It's a really good day because we somehow got lucky enough to talk with the insanely creative and magical Hong Kong-based Wendy Yue. One look at Wendy's nature- and animal-inspired pieces and you'll see why her collection can barely be categorized as jewelry at all. To us, this is high art – captivating combinations of super saturated colored stones paired with whimsical motifs – that you really won't see anywhere else. We particularly love the Asian details sprinkled throughout, including gorgeous hues of carved jade and Chinese Zodiac imagery. (It's about to be the year of the Monkey. Wendy did not disappoint.) These one-of-a-kind creations are begging to be collected, and if only money grew on trees, we would have to build a separate vault just to house our collection of Yue. Girls can dream, right? Until then: window shop below to your heart's content!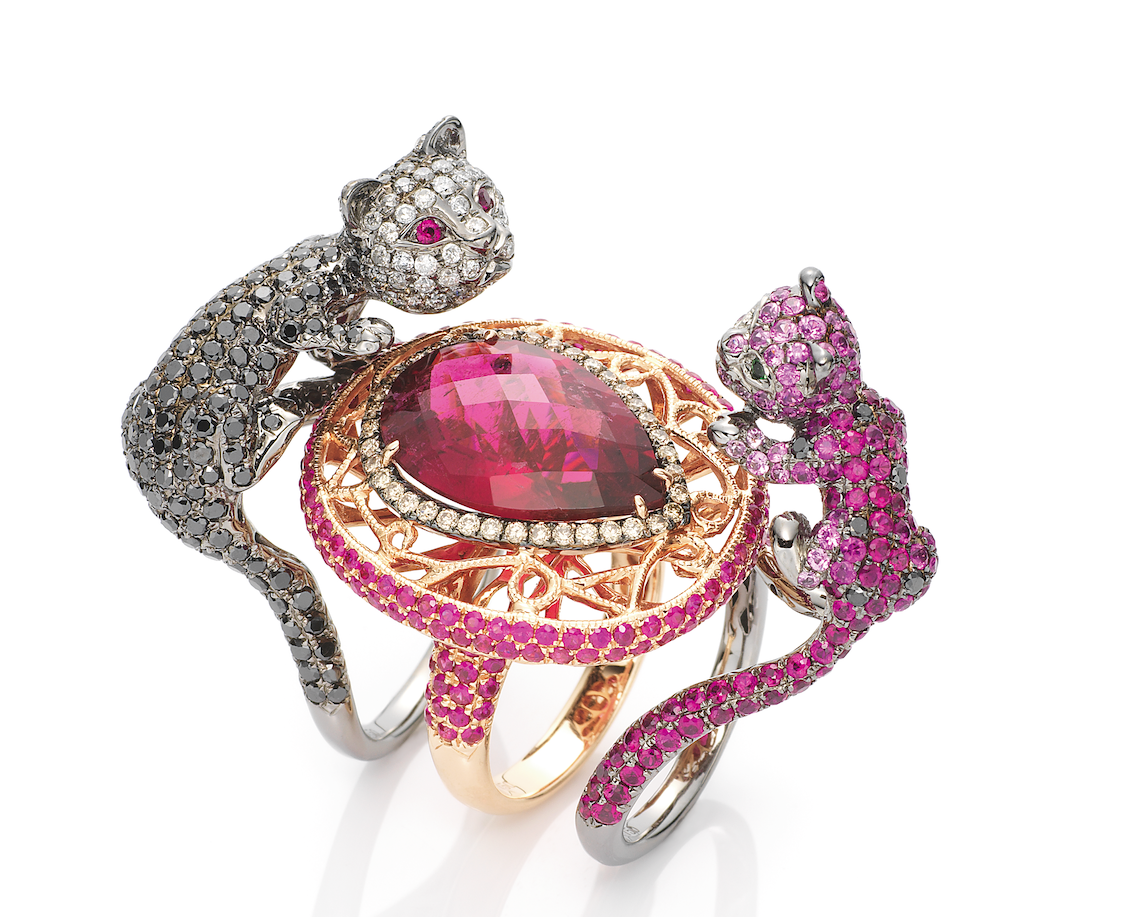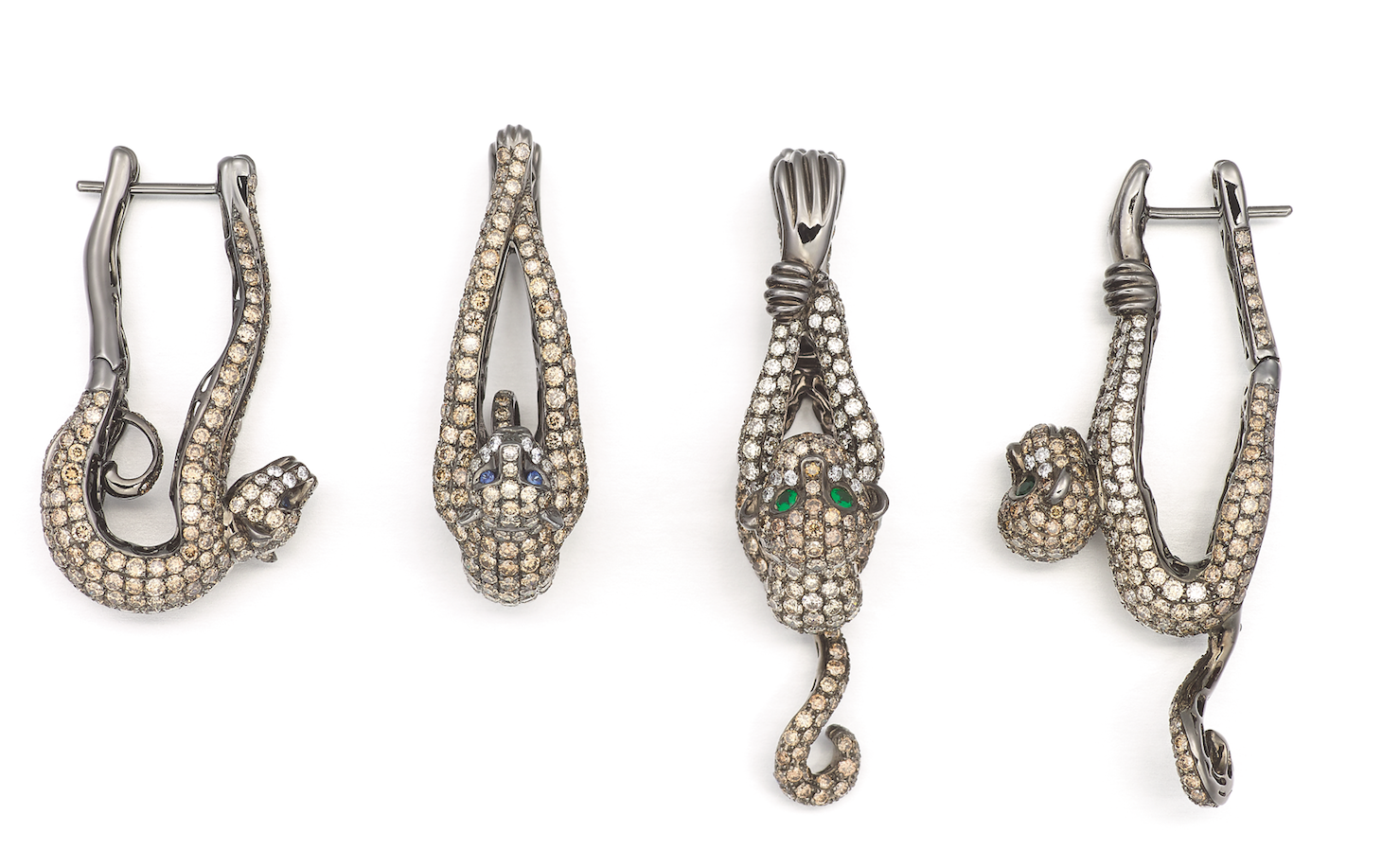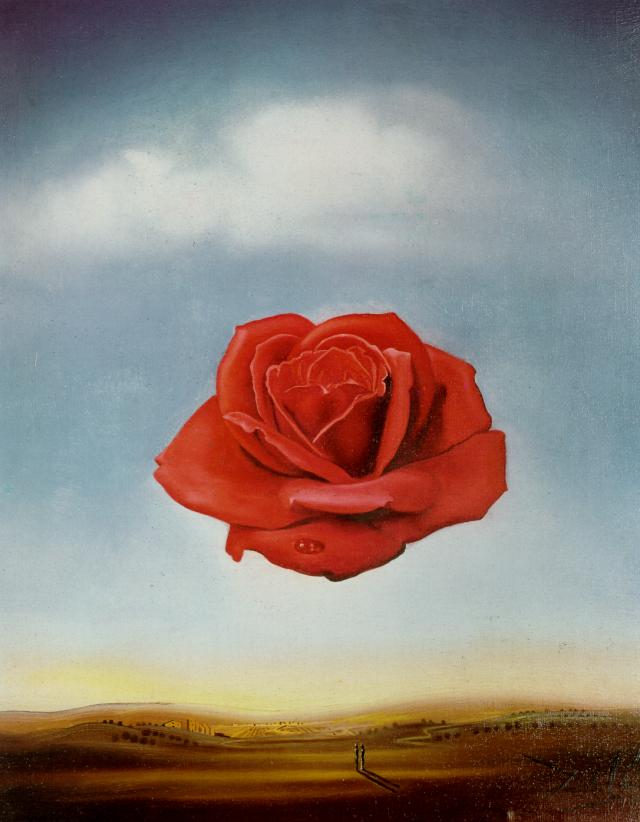 What's your idea of ultimate luxury?
Listening to jazz music by the sea in the quiet parts of the Greek islands.
 
Let's have dinner at your favorite neighborhood restaurant. Where do we go and what do we eat?
Chinese-style seafood and dim sum by the Sai Kung pier. We pick freshly caught fish from old fishermen who are selling from their boats below the pier, then bring them to my favorite restaurant above to decide how to cook the meal with the chef. DIY style!

If you could buy any piece of contemporary jewelry from another jeweler, what would it be?
JAR –Butterfly Brooch (1994). There is so much to be learned from him! His rare and skilled technique and artistic approach to conceptualizing a presentation truly inspires and humbles me.

If you could orchestrate the perfect first date, what would it entail?
Seafood dinner (with lots of clams and mussels), white wine, some Riesling with dessert, and a little bit of dancing. (At my age this is as exciting as it gets!)

What's your guilty pleasure?
Chocolate ice-cream.
 
What's your go–to cocktail?
Gin & Tonic.

The gemstone you're currently lusting after is . . .
Peacock Harlequin Black Opal – that fire brings up my temperature!

What's your favorite holiday and why?
Chinese Mid-Autumn Festival— it symbolizes family unity. It is one of the most important traditions to gather at a round table with your family for dinner, eating mooncakes, playing with sky lanterns and releasing them up to the skies. The scene with hundreds of lighted lanterns floating in the air rising to the depths of the moon and clouds is truly the most beautiful scene one can ever imagine.

You have 30 minutes to work out – what do you do?

I'd go running after my twins, so make it double the time - it will end up AT LEAST 60 minutes.
 
What's your favorite piece that you made in the last year and why?
My "Diamond Party" hand piece, I wanted to play with materials I was less known for, which are Diamonds and Rose Gold, and it worked out beautifully on this piece.

If you could have dinner with any artist, living or dead, who would it be and why?
Salvador Dali. His "Meditative Rose" was one of my sources of inspirations for my Rapacious Rose pieces. I would really love to know what goes on in his head…

What was the first piece of jewelry you bought for yourself?
An antique 18K and glass perfume bottle found in a small shop in Paris decades ago...The owner of the shop told me a beautiful love story about a 19th Century Bourgeoisie that left this bottle behind, told generation after generation, but I will never know if it is true!
 
What's the most sentimental piece of jewelry you own and tell us the back story.
My wedding band. I think that at every stage the wedding band means a great many things to one person and both partners, and your feelings towards this band tells a lot about how you feel about the relationship. I think that jewelry gives you ever-evolving memories, and the importance we place on a piece of gold is far more meaningful than any other clothing or accessory one owns.
 
Mountains, sea or city? Why?
The boundless sea lets my imaginations run wild.

Top 5 bands in your playlist - go!
Dusty Springfield
Louis Armstrong
Nouvelle Vague
Charles Mingus
Nat King Cole

You're having guests for the weekend. What's your signature dish that you cook?
Tuna and Salmon carpaccio with my secret yuzu vinegar sauce recipe.

Be honest – who's your celebrity crush?!
Cate Blanchett, so much elegance!
 
If you could sit front row at any fashion show, which would it be and why?
I would certainly be too shy to sit front row at any show but I would say Sonia Rykiel because her latest season would look fabulous with my jewelry.

Tell us your beauty secrets.
Lipstick and eye cream! A pop of lipstick transforms any girl into a lady, and who needs a brow lift if you have a good eye cream.*wink*

What's your spirit animal?
Monkey

If you could be anything other than a jewelry designer, what would it be?
An interior designer, I love designing and renovating spaces, it gets very technical and I enjoy the process, just like creating my jewelry.