Let us start by answering the first question you have: Yes, he is the nephew of Marina Bulgari, founder of Marina B, and the great-grandson of Sotirio Bulgari, who founded the iconic Bulgari maison. So the jewels are in the blood, people. The answer to the second question you will have is: Yes, he is just as charming and Italian in real life as he is in his FFR interview. Since that's all settled, let us formally introduce you to Giorgio Bulgari, the man who took over as creative director of Marina B just about a year ago. (Randi had the distinct pleasure of working with him during her time at Gemfields, where Marina B created some incredible pieces in Zambian emeralds, including this charitable Motherhood ring with Mila Kunis.) His first major (and dare we say iconic-in-the-making?) collection has just debuted – named Triangoli – and these are certainly pieces that carry the zeitgeist of Marina B but are destined to be just as important in the brand's archives going forward. We think they are 18k gold instant classics that make a statement, but are in no way fussy. With 20 styles ranging from solid gold to full pavé diamond, there's also different looks for different budgets. We approve! And we are also hopping on the next flight to Italy to dine with Giorgio, ride with him in his little red Alfa Romeo, and hopefully raid the family vault. All in a day's work.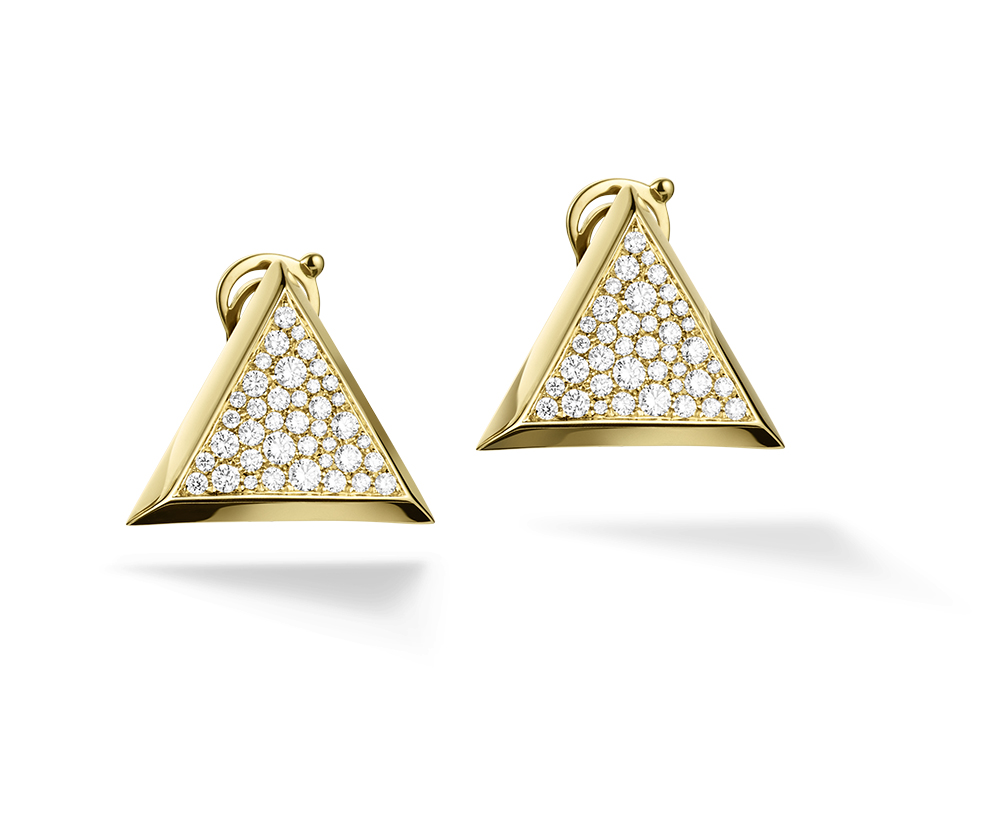 Let's have dinner at your favorite neighborhood restaurant. Where do we go and what do we eat?
Suppose we were in Rome, walking around the historic center on a warm summer evening, I'd take you to a classic pizzeria called 'Baffetto' (little moustache in Italian). It serves some of the best thin-crust pizzas in a simple, typically Roman setting. You sit at small wooden tables covered in paper (where they add your bill!) and the walls are covered in faded pictures. We'd start with a 'crostino alle alici' - lightly battered slices of bread covered in fresh mozzarella and anchovy sauce, pan fried until the mozzarella melts and the bread is crispy - then a 'Margherita con fiori' - a pizza with zucchini flowers. For dessert, I'd walk you to my favorite gelateria…

If you could buy any piece of contemporary jewelry from another jeweler, what would it be?
One by JAR.

The vacation spot that you keep going back to over and over?
Sardinia – I've been going there forever and am mad about its crystal-clear turquoise water, sculptured granite rocks and uniquely scented air – not to mention the delicious sea urchins!

What's the last book you couldn't put down?
Haven't had much time to read lately...

What's your go–to cocktail?
Negroni in winter and vodka tonic with plenty of lime in summer.

The gemstone you're currently lusting after is . . .
A blue sapphire from Ceylon (Sri Lanka).

What's your favorite piece that you made in the last year and why?
The one I am currently working on, you will see!

You have 30 minutes to work out – what do you do?
I don't.

What was the first watch you bought for yourself?
It must have been a Swatch in the late '80s.

If you could have dinner with any artist, living or dead, who would it be and why?
Elmyr de Hory, a famous art forger, to know how many people he fooled.

What's the most sentimental piece of jewelry you own and tell us the back story.
One of my mother's rings, inspired by a sketch I made when I was 7.

What's your preferred mode of transportation day-to-day?
Right now it's my Alfa Romeo 4C, a gorgeous little (red) car.

Top 5 bands in your playlist - go!
Looking at my phone, the 5 most recent searches on Spotify are Serge Gainsburg, Queen, Lee Scratch Perry, Billy Idol and Grace Jones.

You're having guests for the weekend. What's your signature dish that you cook?
Artichoke salad with parmiggiano and olive oil.

Be honest - who's your celebrity crush?!
I remember falling head over heels when I saw Nikka Costa perform 'on my own'…she was 9, I was 4.

What's your dream watch to own?
Royal Oak jumbo, Nautilus 5712 and Enigma C42 Limited Edition.
What's your favorite piece of technology and why?
My iPad, it's always with me.

If you could sit front row at any fashion show, which would it be and why?
Chanel at the Grand Palais in Paris – because it's Chanel and at the Grand Palais.

Tell us your grooming secrets.
Bathe frequently in the Mediterranean Sea!
The Triangoli collection is available at the Marina B flagship in New York City and at select Neiman Marcus locations. You know you want it.
30 East 57th Street (Between Madison & Park) New York, NY 10022 (212) 644-1155
xxFFR