Once in a while, we have the luxury of hanging out with the roster of talent we so lovingly showcase on FFR. Luckily, one of the hangs this week was with the adorable Jennie Kwon. She's a former lawyer, mother of twins, and successful jewelry designer (two years in, mind you), and the latest go-to for layerable, 14K pieces with elegant pops of color and deco influence. As the proud owner of two pixie ears, Meaghan is embracing the wrap-around ear cuffs and thinks you should, too. Thanks for giving us a glimpse of your latest collection this season, Jennie!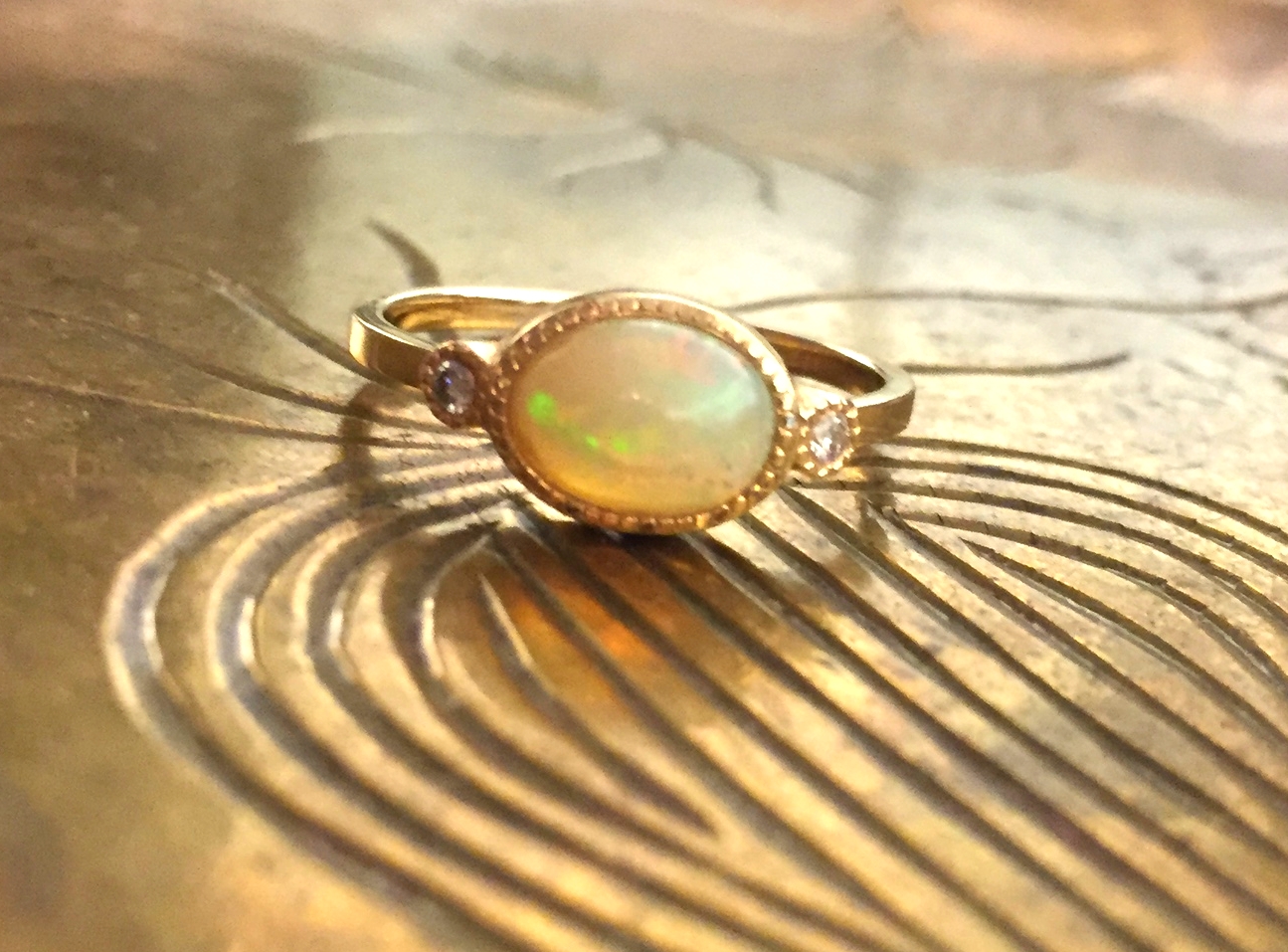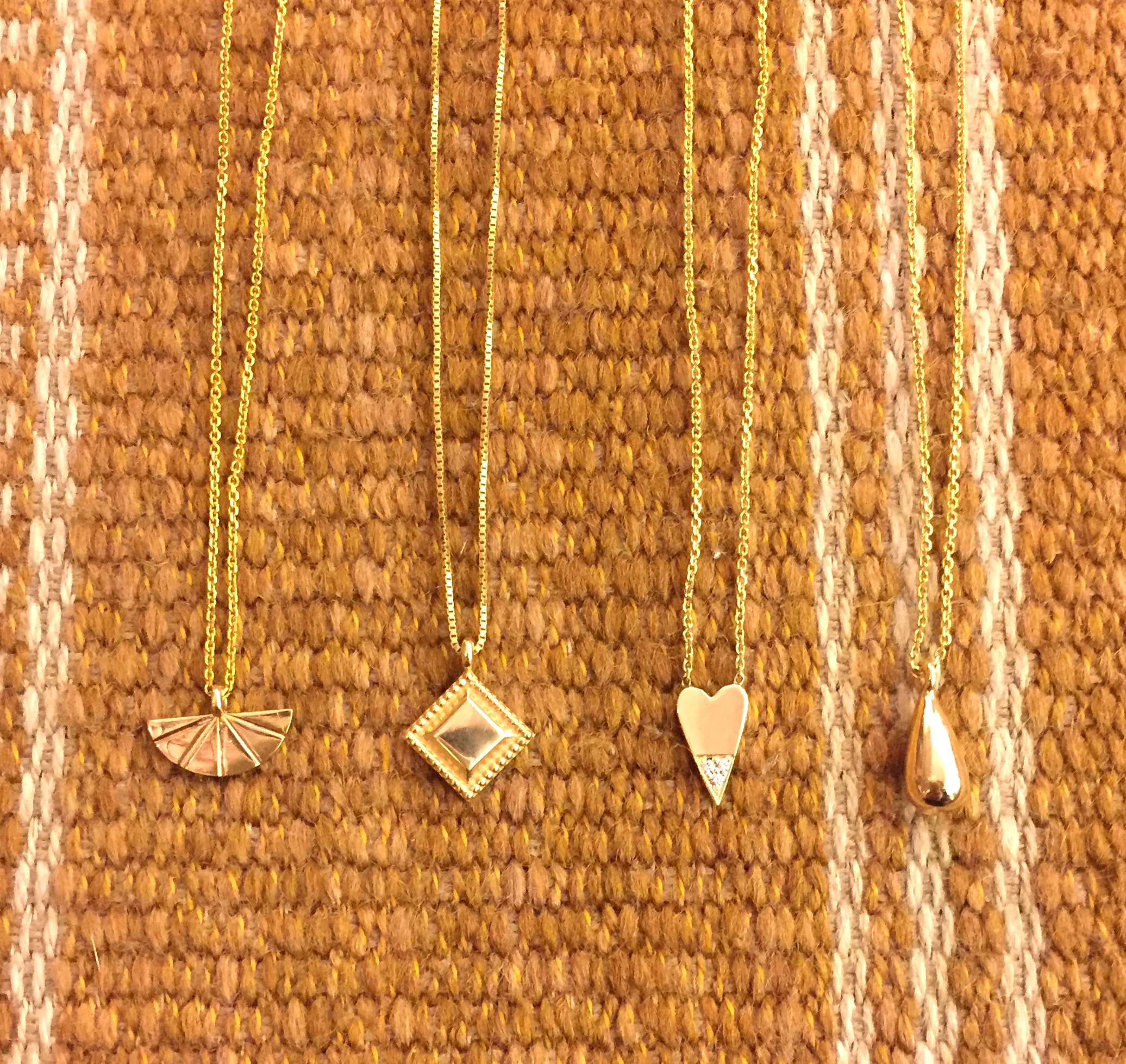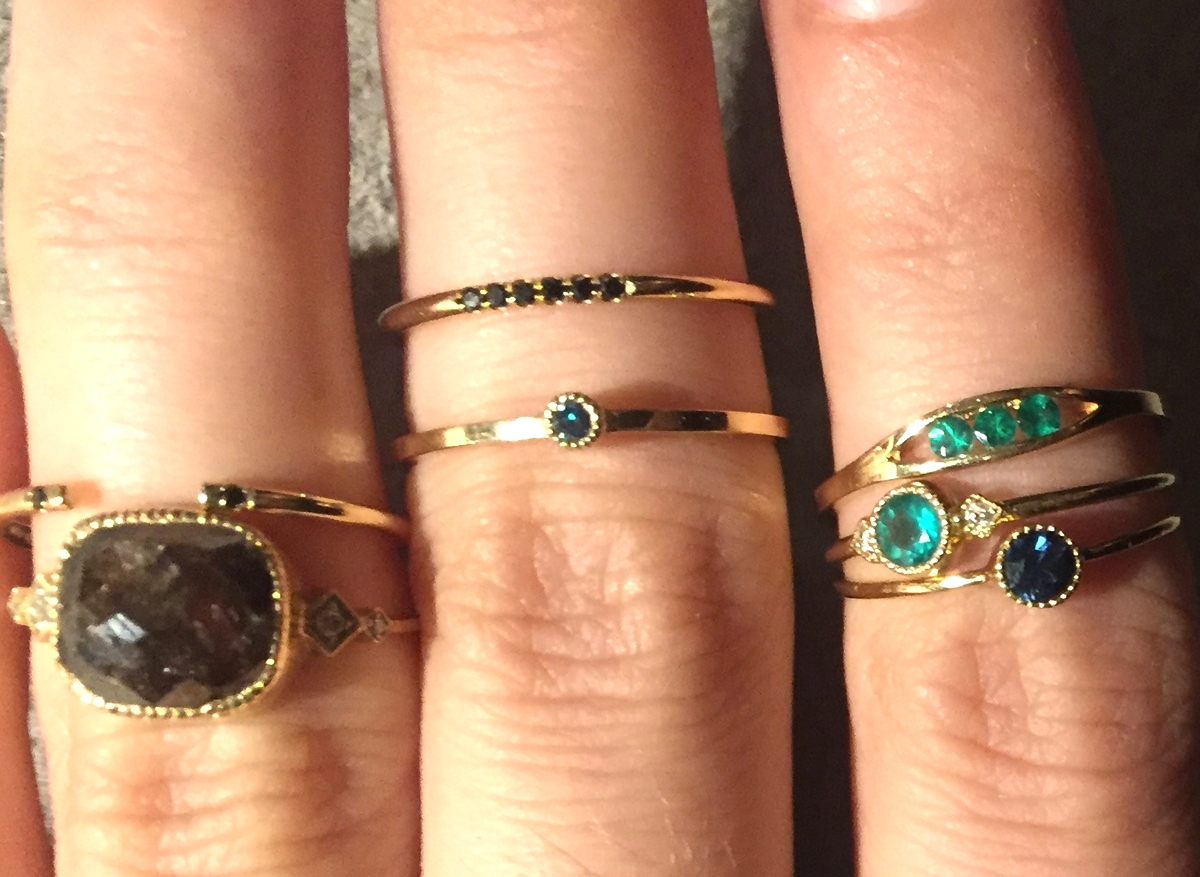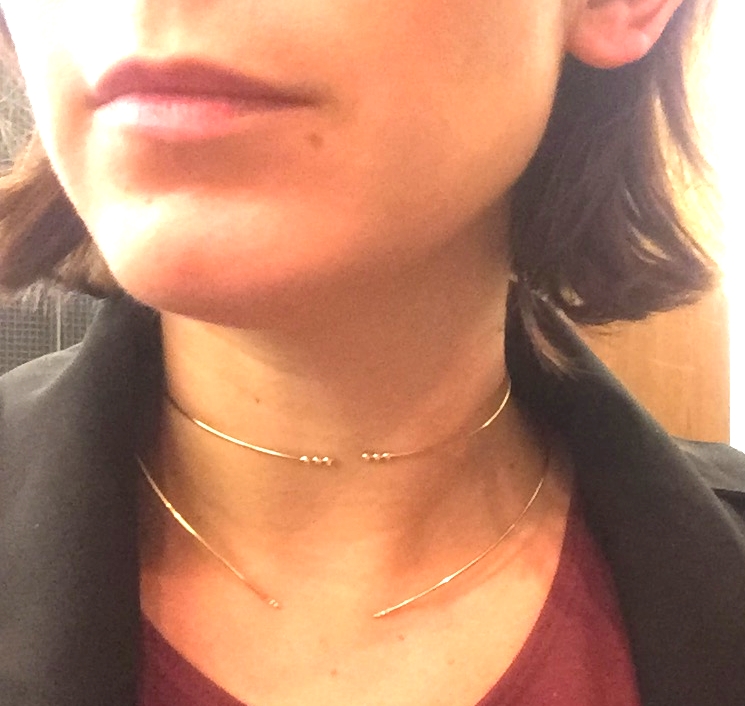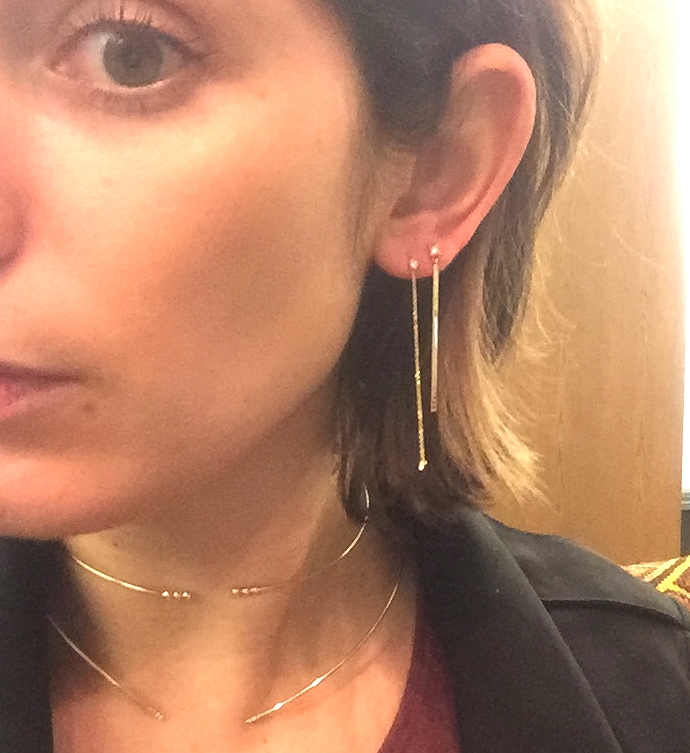 What's your idea of ultimate luxury?
I'm a parent of twin toddlers, so anywhere where there's complete quiet, overlooking a vast landscape / oceanscape with drink in hand would be nice. Think Amangiri or a ranch somewhere in Montana.
Let's have dinner at your favorite neighborhood restaurant. Where do we go and what do we eat?
Let's go to Shunji for sushi! Absolute freshness and deliciousness in an unassuming intimate setting. The sushi melts in your mouth and you won't leave disappointed... promise!
If you could buy any piece of contemporary jewelry from another jeweler, what would it be?
Anything from Monique Pean. She's such a master at sourcing beautifully unique material and creating pieces that are super geometric without losing prettiness and wearability.
If you could orchestrate the perfect first date, what would it entail?
I've been out of that game for forever, so I'm not even sure what people are doing nowadays on dates! I guess it depends on whether you know each other already / have been communicating for a while v. a blind date. If a blind date, something short and sweet that's conducive to chatting and getting to know each other like meeting at a cozy coffee shop somewhere. If you sort of know each other already, then dinner and a drink at a delicious unstuffy spot, then continuing the conversation people watching or window shopping outdoors on a warm summer night.
What's the best movie you saw in the last six months?
Straight Out of Compton. What could have easily turned out to be a cheesy hip hop movie was an incredibly well made social commentary on the times. It was perfectly cast and of course, was super nostalgic to watch since this is some of the music I grew up listening to.
What's your go–to cocktail?
A dirty martini with blue cheese stuffed olives. Extra dirty.
The gemstone you're currently lusting after is . . .
Rose cut diamonds. Romantic, whimsical and quiet while still super sparkly.
What's your favorite holiday and why?
Thanksgiving- stuffing yourself with tons of gluttonous food while surrounded by the people you are the most dear to you= the best combination ever.
What's your favorite piece that you made in the last year and why?
Our Oval Diamond Slice Elevate Ring. It embodies my clean, classic style while simultaneously taking your breath away with it's airy design and amazing center stone.
You have 30 minutes to work out – what do you do?
Take a quick hike in the nearby trails. I find peace and inspiration in the outdoors. I'm not much of a gym person (waiting for equipment, staring at the wall while taking countless steps towards nowhere is not fun) and 30 minutes is too short for a class!
What was the first piece of jewelry you bought for yourself?
In seventh grade, a pair of huge triangle shaped brass earrings with dangling round bell like things all along the bottom of each from Contempo Casuals in our local mall. It was the 90s and had to go with the teased bangs and out of control perm!
If you could have dinner with any artist, living or dead, who would it be and why?
Amadeus Mozart. The level of genius in this man is something that's unparalleled. He wrote his first full symphony at the age of 8 and what he contributed to music before his death at the age of 35, you can't put into words. Would be a trip to get to explore his mind a bit.
What's the most sentimental piece of jewelry you own and tell us the back story.
My mom's wedding band. It's sort of an odd piece with a cathedral shape and a bit of filigree between the finger and the peak of the band and has a little beaded detailing. It's white gold and has darkened over the years. The inside is engraved with the date of my parents' wedding as well as their names. It's sentimental for obvious reasons, but as they both get older, little pieces of history that I'll hold on to and eventually pass down to my kids once they're no longer with me become more precious to me.
Mountains, sea or city? Why?
Mountains, although I love all three. I love the fresh smell of trees and vegetation when you're up in the mountains, as well as the sound of surrounding wildlife. The crispness of the air, the visibility of stars in the night sky, the smell and sounds of crackling campfires... just all around peace and coziness.
Top 5 bands in your playlist - go!
I'm all over the place with this one. These are mostly artists, not bands: Bob Marley (not really a band, but you know. I was listening to him the whole time I was on the operating table when giving birth to my kids), Ray LaMontagne, NWA, Killers, MIA, I can't narrow it down!
You're having guests for the weekend. What's your signature dish that you cook?
We live in Cali where the weather's always great so let's grill some veggie and chicken kabobs! It's easy, low key and we can all sit outside and focus on enjoying each other's company.
Be honest – who's your celebrity crush?!
Benecio del Toro.
If you could only carry one handbag for the rest of your life, what would it be?
I'm not that attached to my bags, but I'm quite enjoying my Fendi 2Jours Medium in a camel color at the moment. It's functional and sturdy enough to carry my laptop and other work related items on a daily basis, but polished enough to wear to a more formal outing.
If you could sit front row at any fashion show, which would it be and why?
The Row because it's stuff that I'd actually wear and I'd be lusting over every single piece I see!
Tell us your beauty secrets (think: can't-live-without makeup and skincare):
*Elta MD sunscreen- i've tried all sorts of sunscreens (super important btw!)- both high end and drugstore, and this one is my favorite. It's super lightweight and fast absorbing. It feels really clean, is great for sensitive skin and doesn't have that white cast.
*Cle de Peau concealer- I hate the feel of foundation so this is my go to for covering up redness around the nose, hyperpigmentation, blemishes. I'm not a huge fan of concealer either since most look and feel caky or drying, until I met this one. It blends in magically. It feels really light on the skin but is really effective at covering and doesn't settle into creases.
*Skinceuticals C E Ferulic- I'm no longer a young pup (not by a long shot) and I'm not sure that this actually does anything, but it feels good to know that you're nourishing your skin daily. This is supposed to be a power packed serum full of antioxidants and reparative qualities. I layer it under my daily moisturizer and feel like it protects my skin from environmental crap. It's all about prevention and maintenance as you get older.
What's your spirit animal?
A lioness.
If you could be anything other than a jewelry designer, what would it be?
A horticulturalist.
Shop Jennie Kwon at Barneys, Twist, and Greenwich Jewelers
xxFFR