Here's the thing: the Indian culture is obsessed with jewelry. Not in a troublesome way, au contraire, but in a magical way. Jewelry is considered part of the life cycle – right alongside birth, coming of age, marriage and motherhood – and has a place of honor in nearly every ceremonial event. So it's no surprise that Indian jewelry possesses a certain kind of magic in and of itself, and contemporary designer Hanut Singh has definitely managed to bottle some of that pixie dust and make it available for the rest of us. Using the groundwork of the traditional Indian model (high-karat yellow gold, rubies, enamel, diamonds and pearls) and adding his own fashion-forward take (surprising gemstones, architectural silhouettes, Art Nouveau and Deco influences), Hanut has managed to teach an old dog new tricks and it has us in a bit of a tizzy. Read on to see the earrings that will surely break your heart because they're so good. Unless you can buy them. Then we're about to make your day.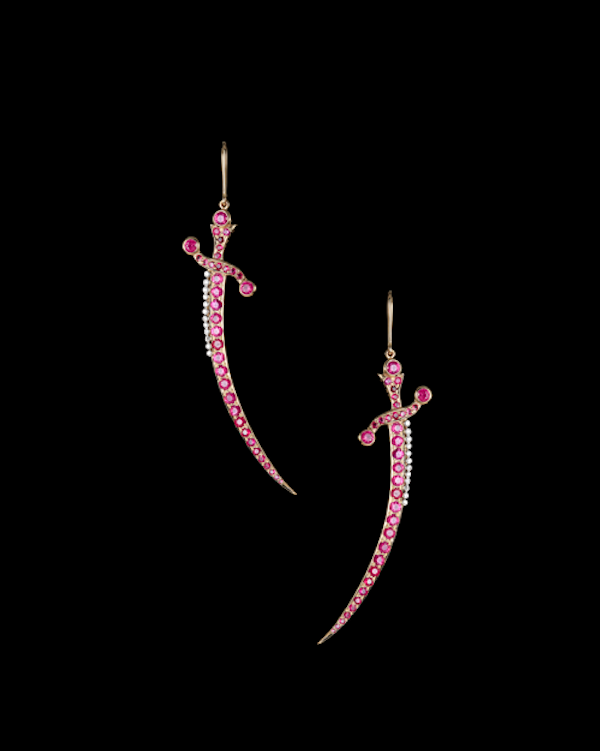 Let's have dinner at your favorite neighborhood restaurant. Where do we go and what do we eat?
When in Delhi – my favourite restaurant is this jebab place called Have More. Old school and swoonworthy! I order the famed tandoori chicken, mutton kebabs and a butter naan. My mouth is salivating writing this!

If you could buy any piece of contemporary jewelry from another jeweler, what would it be?
I would love a solid gold bracelet by Ted Muehling, some more gold men's sculptural bracelets by Robert Lee Morris and a beautiful golconda ring by Viren Bhagat. Some JAR wouldn't be amiss, either.

The vacation spot that you keep going back to over and over?
My home in the hills in Mussoorie, India.

What's the last book you couldn't put down?
The Snow Leopard by Peter Mattheissen.

What's your go-to cocktail?
A dirty martini. Always.

The gemstone you're currently lusting after is . . .
Intense red spinel. As well as paraibas and padparadscha sapphires.

What's your favorite piece that you made in the last year and why?
My window frame earrings set in ruby and diamonds and my glitterbomb leaves. Very intricate settings and so they needed to come out perfectly.

You have 30 minutes to work out – what do you do?
Vascillate

What was the first piece of jewelry you bought for yourself?
A Cartier three band ring.

If you could have dinner with any artist, living or dead, who would it be and why?
Madonna. And Leonardo da Vinci. His proportions slay me.

What's the most sentimental piece of jewelry you own and tell us the back story.
A golconda diamond ring made by Cartier for my grandfather. It's sublime. The stone is spectacular and the setting so chic. These kinds of things don't come by easy. And they have sentimental value. I also love my own designed golconda diamond ring i wear daily. Its a part of me and is my talismanic protector.

What's your preferred mode of transportation day-to-day?
My SUV. Comfort all the way.

Top 5 bands in your playlist - go!
Junior Vasquez. Madonna. Alice Smith. Quentin Harris. Kristine W.

You're having guests for the weekend. What's your signature dish that you cook for them?
My chef does a great job with yummy Indian food.

Be honest – who's your celebrity crush?!
Where to begin!

What's your dream watch to own?
A wooden dial Cartier tank.

What's your favorite piece of technology and why?
My iPhone. Reasons unlimited.

If you could sit front row at any fashion show, which would it be and why?
Donatella. Chanel. Dior. It would be thrilling to see the masters at their heightened best. Couture for Chanel and Dior. And Alaïa too. Fun!

Tell us your grooming secrets.
Cleo Spa in NYC for a facial. Simple Korean facials that deep cleanse and massage the face. Heaven.