On a trip to Tel Aviv, Jennifer Shanker stumbled upon the most exquisite jewelry she had ever seen. She quickly commissioned her wedding band from the talented designer. Losing no time in bringing his collection to New York, thus opening MUSE showroom, her career in this crazy industry began with her introduction of Yossi Harari to the US. We have much to thank Jennifer for (don't call her Jen, unless she loves you), but bringing Yossi mainstream takes the cake. Where would we be without gilver (if ya don't know, now ya know...gold and silver combined into ONE BRILLIANT METAL), y'all? Fifteen years and a thriving multi-designer showroom later, she is nominated (again!) for tonight's WJA's Award for Excellence in Sales. We're here to tell you, after having had the pleasure of hanging out alongside the hardest working #girlboss in the biz, we are psyched to get all gussied up and get TEAM SHANKER tonight. See everyone there! We'll be the ones inappropriately overdressed in sequins, lace and a ton of jewels.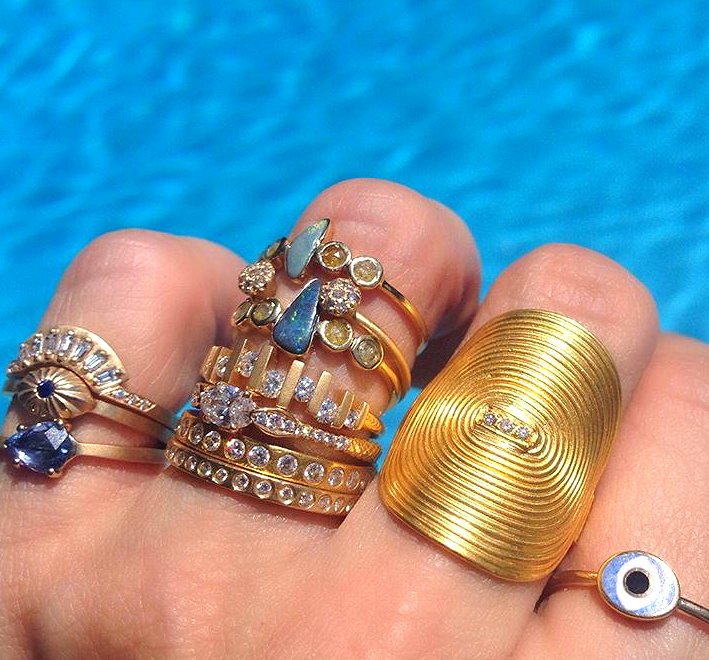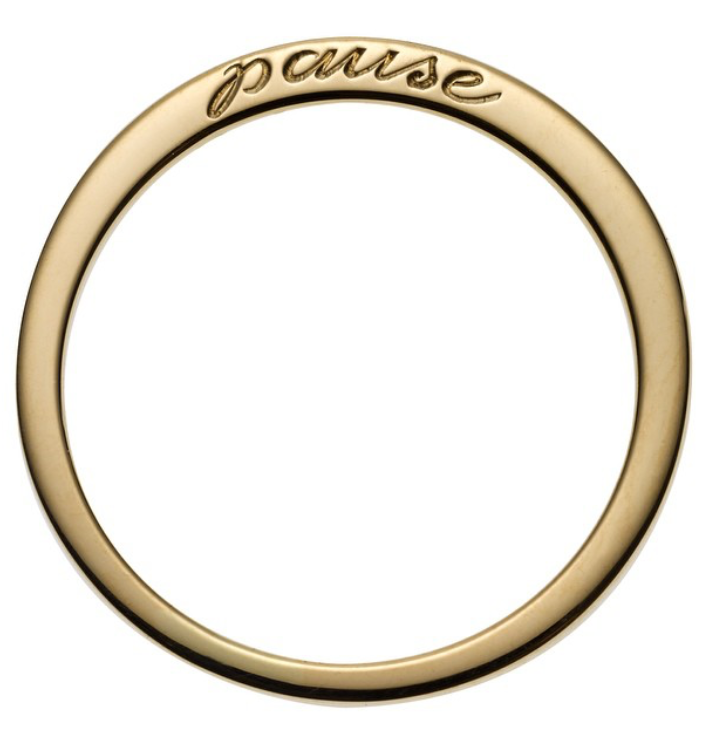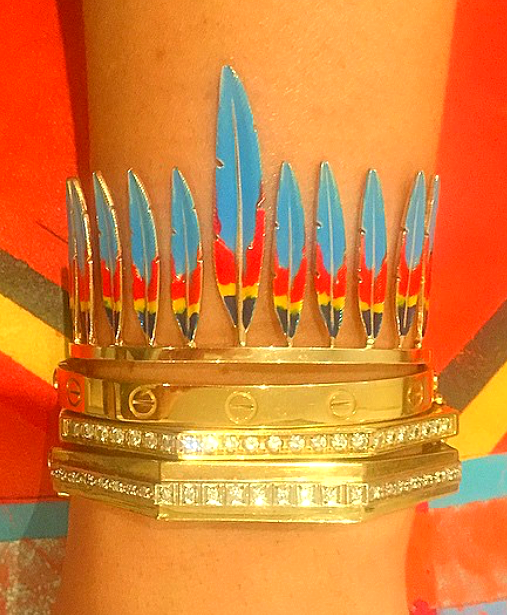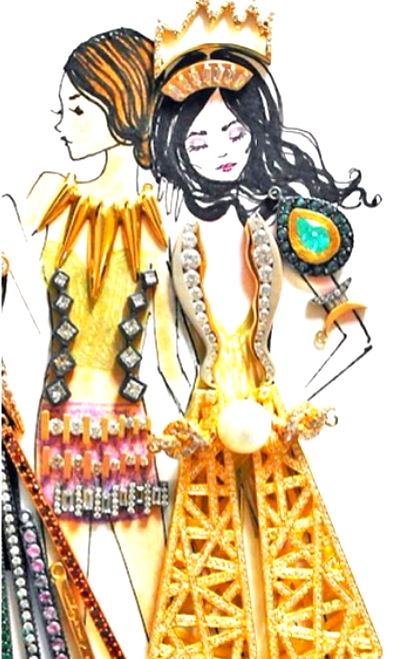 How long have you been in this crazy biz and what did you do prior?
I have been in the jewelry business for 15 years. Prior to this I worked in non-profit and high-tech worlds.
Congrats on COUTURE! Tell us about your inspiration for the booth.
We launched a new marketing campaign at COUTURE with artist Meredith Wing. The 'head to toe' jewelry girls concept was a way for us to show how we see and style jewelry in a fresh and creative way.
Name another fine jewelry designer that you are a fan of and tell us why.
A non MUSE designer? Would have to be Mark Davis. Mark is a dear friend and a super talented designer. The one of a kind, super chic combinations of Bakelite and precious materials are right up my alley. Mark's clean patterns, his balance of modern and vintage and his play with color are signature to his aesthetic – of which I am a huge fan.
Gemstone you can't get enough of?
Rose-cut diamonds.
What's your favorite piece that you've recently purchased?
My Nora Kogan "PAUSE" ring and my new Nikos Koulis diamond baguette Spectrum studs. Next up is hopefully Yossi Harari's new Vinyl ring and then a Feather cuff by Luis Morais. (I could go on and on if you like?)
What is the most sentimental piece of jewelry that you own and what's the backstory?
A brass knuckle ring by Robert Lee Morris that my father gave to me for my 18th birthday. It was the first piece of designer fine jewelry I received and surely affected my love for the alternative fine jewelry world.
Why do you think people are becoming so comfortable purchasing fine jewelry online?
Now that the top online sites have raised the level of customer service to be equal to or greater than the service clients have come to expect, the end client is now shopping in a more familiar and comfortable, albeit online, environment.
Next time FFR is visiting your home base, where do we eat?
Barbuto will always be a neighborhood favorite and destination for visiting guests. The cuisine is consistently fresh and delicious and the cocktails are just as impressive.
Bar Bolonat is a new neighborhood fave, and it doesn't hurt that is in between my home and MUSE. The creative take on Israeli cuisine is an exotic, delicious addition to the West Village.
Best cocktail bar?
Pub food and classic cocktails are best at The Spotted Pig. It is worth the wait.
What's your preferred mode of transportation day-to-day?
Either walking or riding the train, always.
Top 5 bands in your playlist?
Tom Petty, Fleetwood Mac, Adele, Bob Dylan and Sam Smith (Ed Note: Jennifer has a great Tom Petty story. It involves an elevator. Ask her!)
Celebrity Crush?!
Jakob Dylan (Ed Note: Good one!)
If you could only carry one handbag for the rest of your life, what would it be?
Instagram, Facebook, or Twitter?
Following @museshowroom ?
What's your signature scent and what three words would you use to describe it?
Must de Cartier. Spicy, fresh, sexy
If you could do anything else for a living, what would it be and why?
Still trying to figure that out…
Where's the last destination you visited that inspired your work?
Can't remember :)
(Ed Note: We're going with Vegas. Bahahahahahaha.)
Flats or heels? (And what's your current favorite pair?)
Flats or platforms – current faves for summer are Birkenstock flats and Jil Sander Navy platforms.
You're on a shopping mission in your hometown. Where is your go-to for the perfect party outfit?
Acne or Yigal Azrouel
Housewarming gift?
A vintage glass vase from End of History or anything from the Jonathan Adler MUSE collection (which is well stocked in our shipping closet.)
If we were filming the reality show of your life, what would your tagline be? (Think Real Housewives!)
See Shanker Run
xxFFR