We love a lady who takes her jewelry really seriously. Michelle took it to the next level by studying goldsmithing in Florence, Italy, before returning to the States to start her eponymous line. We can't get enough of the rich symbolism in every one of her jewels – to us, they read like modern armor – and her insanely stackable pieces are meant to be worn in a million different ways, kind of giving us a new jewelry wardrobe every day. Don't forget to check out the details, like tiny Paraiba tourmalines and blue diamonds that pop up every now and again.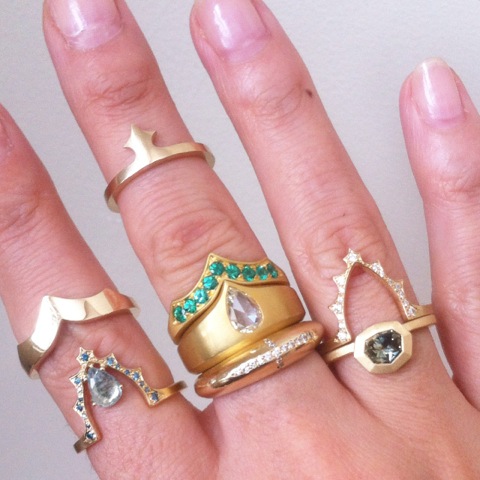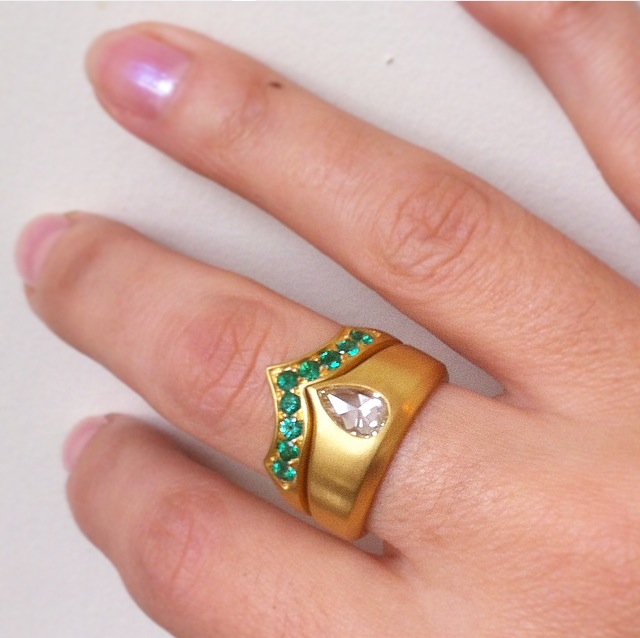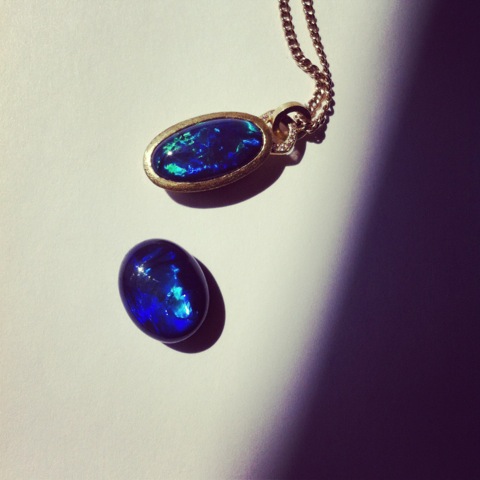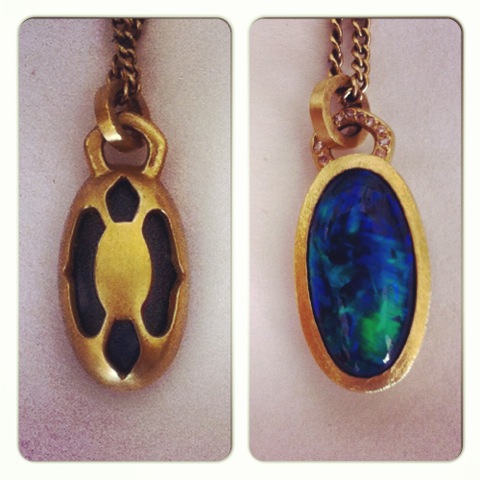 Let's have dinner at your favorite neighborhood restaurant. Where do we go and what do we eat?
My new neighborhood favorite is actually a reopened restaurant, originally opened in the '50s. It's called the Long Island Bar – it was empty for as long as I remember, then I walked past one night and it was open, like magic. (The owner didn't want to rent to anyone who would rip out the interior, so she kept it closed. It was her restaurant that she ran with her husband, after buying it from her father.) I like it because this new version of it is a lovingly-done rehab so it's an authentic piece of old New York. I recommend the cheeseburger with a bacon wheel and the butterscotch pudding. They use giant ice cubes in their cocktails.
If you could buy any piece of contemporary jewelry from another jeweler, what would it be?
A signet ring by my friend Patricia Ficalora. They are sculptural, massive 18k gold rings – they have authority.
The vacation spot that you keep going back to over and over?
I've been to Barcelona and New Orleans several times each. Not always for a vacation but I just love those two cities.
What's the last book you couldn't put down?
The Leftovers by Tom Perrotta.
What's your go-to drink?
Bourbon Manhattan on the rocks or gin and tonic in warm weather.
The gemstone you're currently lusting after is . . .
Black Opal is my favorite gemstone. It's the rarest opal. Gemstone quality Black Opal is even rarer. It only comes from one place: Lightning Ridge, Australia.
It's your birthday and your favorite flower arrangement arrives – what does it look like?
Dark Calla Lillies.
What's your favorite piece that you made in the last year and why?
It's a toss up between the Maharaja puzzle rings and a one of a kind Phenakite pendant. I like the rings because they fit together perfectly and also have presence on their own. I'm proud of the models I made and proud of my stone setter who is a genius and has been setting diamonds since he was 13. He set the diamond beautifully, so you really see the rose cut diamond dome above the surface. The emeralds I chose for the other ring are electric green, high grade emeralds, and the intense color really pops out the form of the ring. They're what I would wear.

You have 30 minutes to work out – what do you do?
I plan to get a weighted hula hoop for quick workouts. It would be a fun way to start the day: blast some music, hula hoop a bit, then be off.
What was the first piece of jewelry you bought for yourself?
An Old Pawn silver cuff bracelet when I was 15, I think it is Navajo.
If you could have dinner with any artist, living or dead, who would it be and why?
Patti Smith. I think this needs no explanation, amiright? (ed note: 'Just Kids" is a very popular answer for any question regarding a recently read book!)
Take a picture of the most sentimental piece of jewelry you own and tell us the back story. (Check it out on the slideshow)
For our 5th anniversary, my husband gave me a beautiful black opal that I made a bezel pendant setting for in 18k gold with pink diamonds. It is a meaningful gift and I am more attached to it than any other piece of jewelry. I wear it almost everyday and don't like to travel without it.
What's your preferred mode of transportation day-to-day?
I mostly take the subway, and Uber is my favorite app.
Top 5 bands in your playlist - go!
Yeah Yeah Yeahs, The Roots, Alison Kraus and Robert Plant, Wilco, Green Day.
You're having guests for the weekend. What's your signature dish that you cook for them?
Salt baked Branzino, crispy potatoes and broccolini. The salt crust around the whole fish keeps all the flavor and moisture in.
Be honest – who's your celebrity crush?!
I don't have a reliable crush, I just have moments. Last crush was Dan Stevens on High Maintenance.
If you could only carry one handbag for the rest of your life, what would it be?
I have asked myself the same. Ever since seeing a casually dressed yet super chic woman carrying a beat up vintage Hermes Birkin bag on the subway, I've thought of that bag. The new ones don't hold the same allure: it would have to be cognac color and look like it had already survived two generations. I like the idea of something that is so classic and so well made, also being well used and no longer pristine, like a '70s Mercedes that's seen a lot of mileage. On the other hand, I have a fantasy of carrying no bag at all. Leaving the house with just a phone and a credit card would feel so free, so effortless!
What's your signature scent and what three words would you use to describe it?
My favorite scents are summer in the morning and sesame bread.
If you could sit front row at any fashion show, which would it be and why?
Dries Van Noten. Besides the incredible clothes, his shows are beautiful, artful, and the styling is beyond.
Tell us your beauty secrets (think: can't-live-without makeup and skincare)
The product I'm most loyal to is EVO Liquid Rollers, it's perfect for wavy hair.
Signature nail polish and/or lipstick shade for a night on the town?
I like to mix brighter colors like Nars Heat Wave with Nars Pigalle lipstick as the base.
What beauty/health/apothecary product can you not live without during Couture?
Vegas is so dry, I will bring a moisturizing arsenal including hydrating mask and cuticle oil, in addition to intense moisturizers. If that doesn't do the trick, I'm bringing Aquaphor. I'm a mother and have that stuff always ready.