You know it, we know it, everyone seems to know it: the baguette is back and in a very big way. We have to give at least some of the credit to Suzanne Kalan, whose Fireworks collection – created in 18-karat gold and asymmetrically-set diamonds – literally exploded all over the Couture show in Las Vegas last year. We readily admit to desperately wanting to add a bangle (or five) to our own stack, but until then, we'll have to make due with living vicariously through the Los Angeles-based designer who was brought up in the jewelry biz. Ready to commit to Suzanne even more? Check out The Latest where we explore her brand new bridal line, Devoted, that will launch at the end of May at Couture 2015.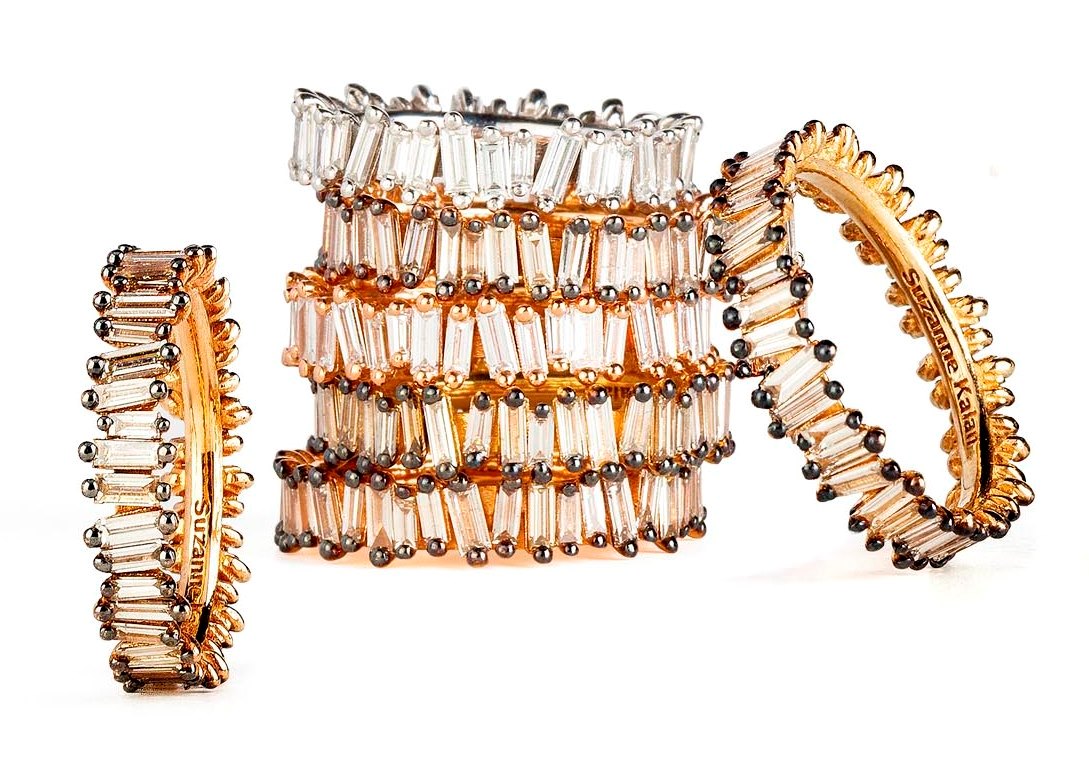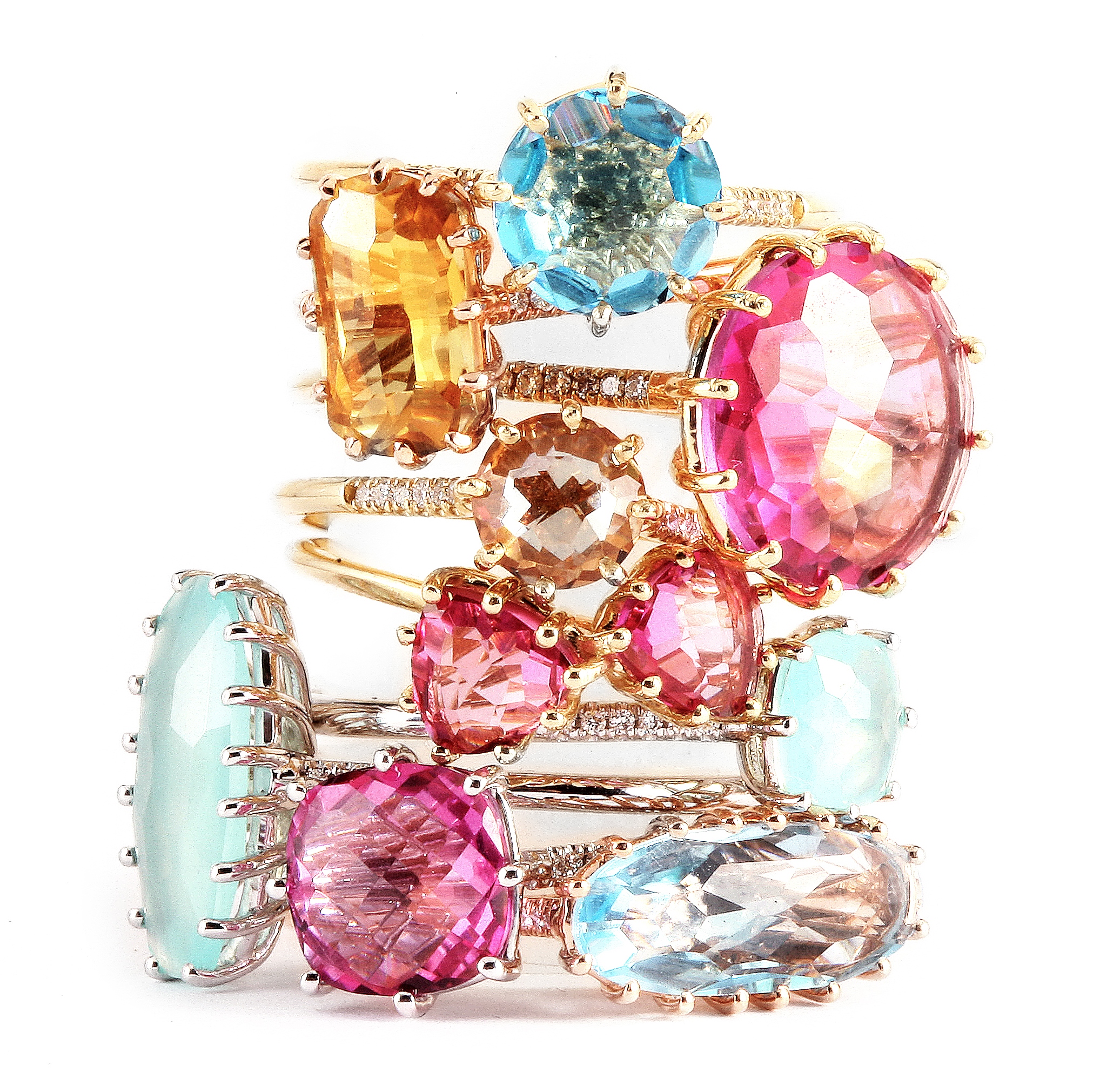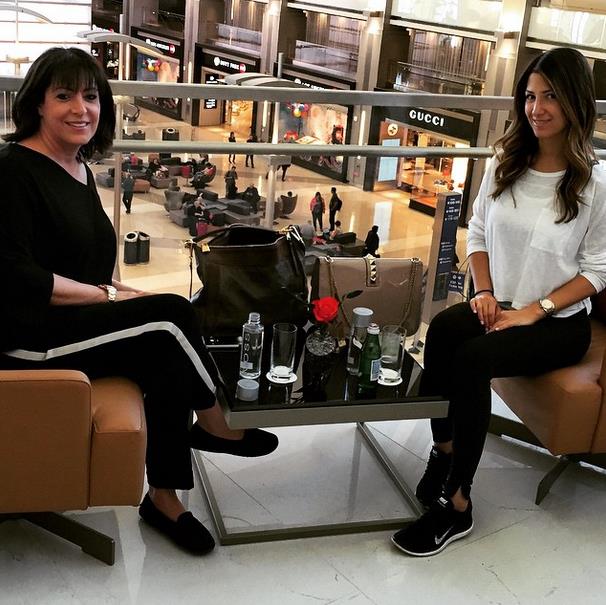 Let's have dinner at your favorite neighborhood restaurant. Where do we go and what do we eat?
Cecconi's in West Hollywood, L.A., for pizza.
If you could buy any piece of contemporary jewelry from another jeweler, what would it be?
It would definitely be a one-of-a-kind ring by Sevan. He is an amazing artist and a great person.
The vacation spot that you keep going back to over and over?
I try not to go to the same place twice. I love seeing new places and experiencing different cultures.
What's the last book you couldn't put down?
Princess: A True Story of Life Behind the Veil in Saudi Arabia by Jean Sasson.
What's your go–to cocktail?
Grey Goose on the rocks with a lemon wedge and three big olives stuffed with jalapenos.
The gemstone you're currently lusting after is . . .
Emeralds.
It's your birthday and your favorite flower arrangement arrives – what does it look like?
One big arrangement of six to eight dozen tulips in all different colors with no greens.
What's your favorite piece that you made in the last year and why?
My baguette bangles from the Fireworks Collection. They are universally loved by all types of women and look great stacked or on their own.
You have 30 minutes to work out – what do you do?
Nada!
What was the first piece of jewelry you bought for yourself?
I have never purchased a piece of jewelry for myself. Within the Armenian culture, we are gifted jewelry from the day we are born.
If you could have dinner with any artist, living or dead, who would it be and why?
Annie Leibovitz. She captures the emotions of the people she photographs. I can look at her photos for hours, admiring the details. I love photography. If I wasn't a jewelry designer I would definitely be a photographer.
What's the most sentimental piece of jewelry you own and tell us the back story.
I actually have two. First is the necklace my husband gave me on our wedding day. He is a diamond setter by trade, and his brother a jeweler. It was handmade for me by both of them. The second, which I don't technically own anymore, is a tennis bracelet my parents gifted to me on my wedding day. I ended up selling it to start my business 27 years ago.
What's your preferred mode of transportation day-to-day?
My BMW. Unfortunately we aren't close enough to anything to be able to walk.
Top 5 bands in your playlist - go!
Charles Aznavour, Norah Jones, Pink Martini, Adele, and Joe Bonamassa.
You're having guests for the weekend. What's your signature dish that you cook?
I don't like cooking just one dish. I prefer to set a table of all kinds of cheeses, salads, and appetizers. It's a great way to sit for hours with everyone.
Be honest – who's your celebrity crush?!
George Clooney
If you could only carry one handbag for the rest of your life, what would it be?
A gigantic Bottega Venetta shoulder bag I could fit everything into.
What's your signature scent and what three words would you use to describe it?
Jo Malone. I actually mix two: Lime Basil and Orange Blossom. Three words to describe it are fresh, light, and clean.
If you could sit front row at any fashion show, which would it be and why?
Brunello Cucinelli. I love the colors, styles, and quality of his clothes. His designs are timeless, elegant, and fresh.
Tell us your beauty secrets (think: can't-live-without makeup and skincare)
I have to have my concealer, my blue eyeliner from MAC called Petrol Blue, and black mascara.
Signature nail polish and/or lipstick shade for a night on the town?
Nail polish would be OPI Lincoln Park After Dark. Lipstick is Chantecaille nude lip gloss named Charm.