There is a very particular magic that happens when inspiration meets authenticity. For the enchanting Katey Brunini, the two are completely synonymous. Her years spent traveling the globe and living abroad led to studying with master goldsmiths in her family's native Italy, and her love for the natural world has resulted in a rich collection of organic jewels. Signature lines like Body Armor, DNA and Vertebrae show her love for the human form; while Twig, Spider Web and Spirit Animals embrace the beauty of flora and fauna. (Let it be known: If you meet Katey, she will ask you about your spirit animal. Best to think about it now and come prepared.) Yes, she hangs with shamans and vacations in enchanted forests, but believe us, there's not an ounce of Katey that is contrived. Every time we hang out with her we hope a little bit of the magic rubs off in our direction.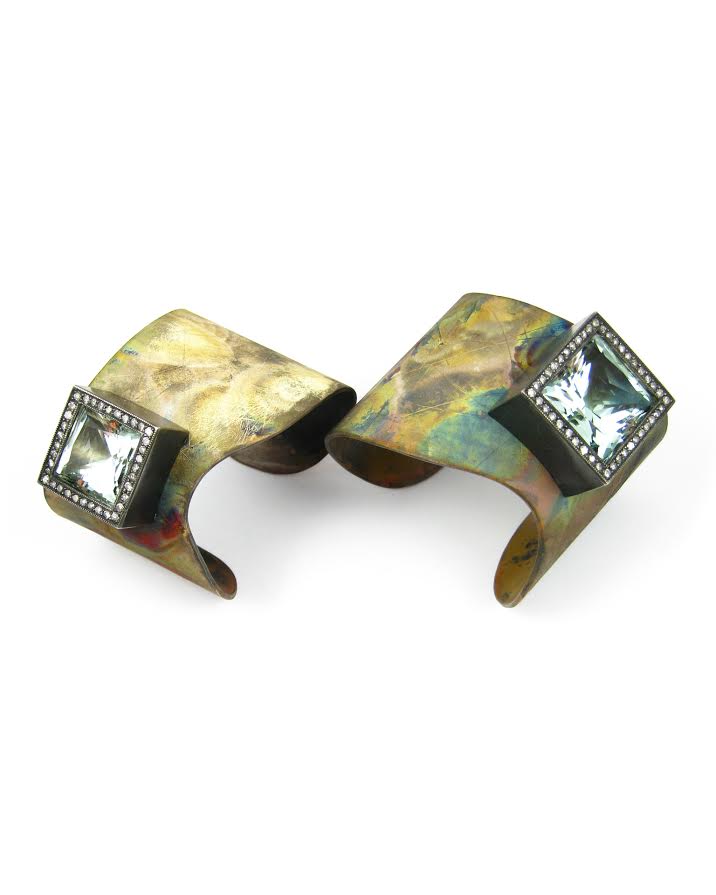 Let's have dinner at your favorite neighborhood restaurant. Where do we go and what do we eat?
Since I travel so much I like to eat at home when I have the opportunity. I will cook perhaps a Thai lemongrass soup or a fresh piece of meat or fish from Seaside Market. If you stay the night, Naked Café for breakfast…though I refuse to wait if there is a line to eat.
If you could buy any piece of contemporary jewelry from another jeweler, what would it be?
A Pedro Boregaard moth. I should call him.
The vacation spot that you keep going back to over and over?
I like to switch it up. Mountains, volcanoes, water, and a Latin speaking country tend to lure me. A mix of culture, exercise, nature…though recently I have been spending time in the enchanted Tyrolean forests in the Alps with a shaman.
What's the last book you couldn't put down?
I am a voracious reader. Historical novels are my sweet spot. Just finished "The Heart of Everything that Is" on the plane. It's the story of Red Cloud, one of the last Sioux chiftains.
What's your go-to cocktail?
Tito's and soda + lime.
The gemstone you're currently lusting after is . . .
Burmese rubies.
It's your birthday and your favorite flower arrangement arrives – what does it look like?
I do weekly flower arrangements when home, no need to wait for birthdays. Fragrant lilies from Farmer's Market and wild things cut from garden.
What's your favorite piece that you made in the last year and why?
Insect and vegetable matter specimen Amber necklace with Australian opal and fancy yellow diamonds. Sick.
You have 30 minutes to work out – what do you do?
Beach walk.
What was the first piece of jewelry you bought for yourself?
No idea. I started early.
If you could have dinner with any artist, living or dead, who would it be and why?
Leonardo da Vinci. We would invent something incredible together, and the masses would catch on in 300 years or so.
Take a pic of the most sentimental piece of jewelry you own and tell us the back story.
A medallion (pictured above) fell out of the sky and landed on my foot.
What's your preferred mode of transportation day-to-day?
Old bicycle. Since I do not lock bicycles, I do not have nice ones anymore. This beauty (pictured) was a gift from Gdizzle.
Top 5 bands in your playlist - go!
The Dead Weather, The Kills, Alma Megretta, Lana del Rey, Elvis, of course.
You're having guests for the weekend. What's your signature dish that you cook?
Homemade salsa and guac. I like it spicy.
Be honest – who's your celebrity crush?!
Scarlett Johansson.
If you could only carry one handbag for the rest of your life, what would it be?
Recyclable cloth bag.
What's your signature scent and what three words would you use to describe it?
Bergamot and grapefruit essential oils. Uplifting, joyous, addictive.
If you could sit front row at any fashion show, which would it be and why?
McQueen circa 1995, right before he exploded.
Tell us your beauty secrets (think: can't-live-without makeup and skincare)
I don't have any.
Signature nail polish and/or lipstick shade for a night on the town?
I like a red lip. Chanel probably.
What beauty/health/apothecary product can you not live without during Couture?
Organic lotion from Optimum Health Institute. I am contemplating bringing my bodyworker to Vegas, but he will not fit in bag….