We've had the pleasure of knowing the bright, talented, and gorgeous (did we say gorgeous?) Corina Madilian since 2011. In the last four years, we've shared jewel chats, cocktails, and some amazing meals, but mostly, we've just stared at her personal collection of fine baubles and wept because it's not our own. The woman knows how to accessorize. To be fair, she also knows how to dress. And cook. And speak Spanish. Our personal favorite Corina phase was when she wanted to grow her hair to her waist and dress exclusively like Georgia O' Keefe. But, that's another interview. The LA-based mother of three and owner of Single Stone, Single Stone San Marino, and Serafina is doing it all and sharing with us what helps her along the way. We're hoping some of it rubs off.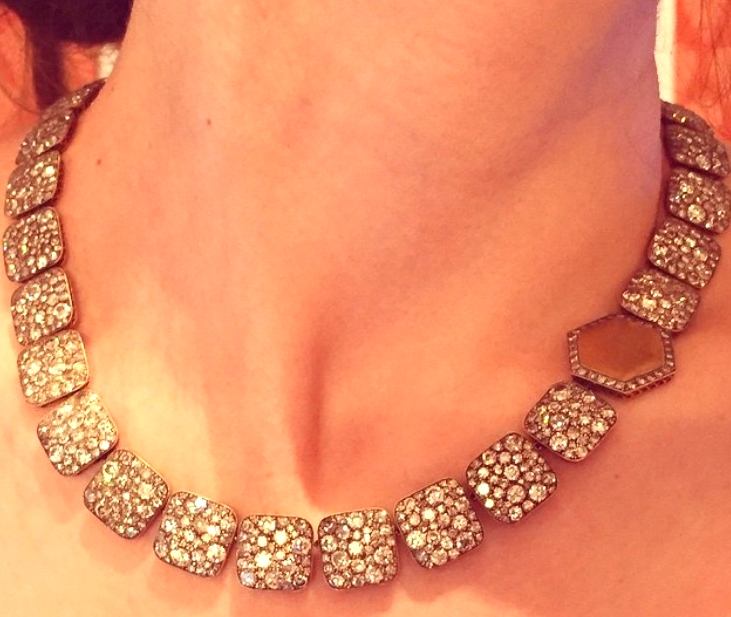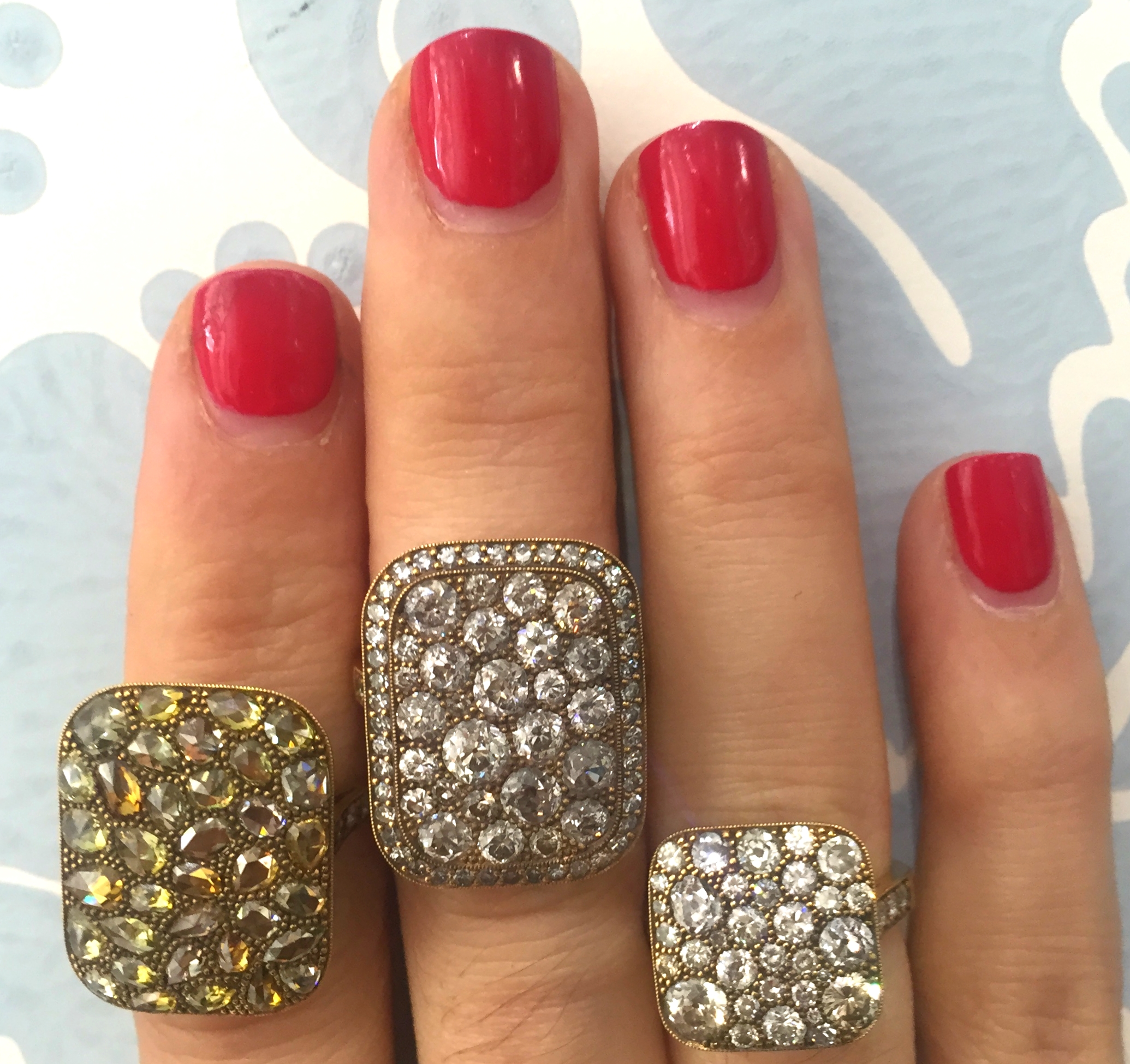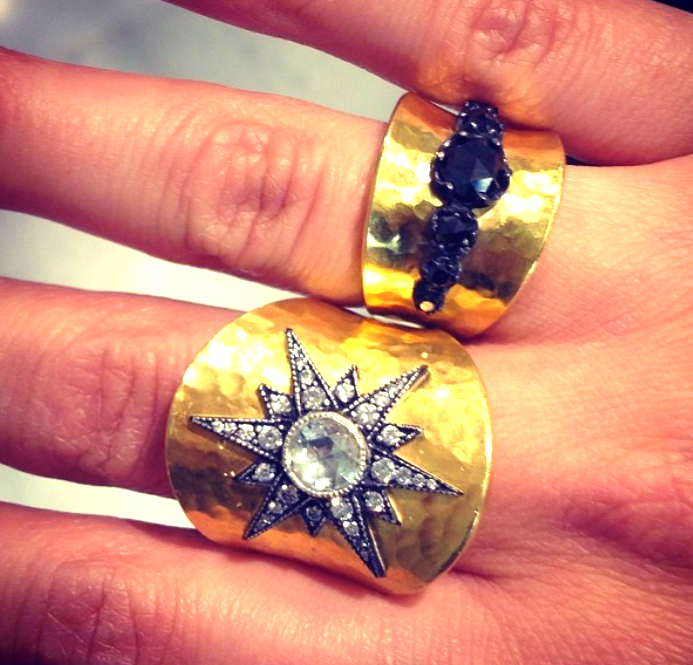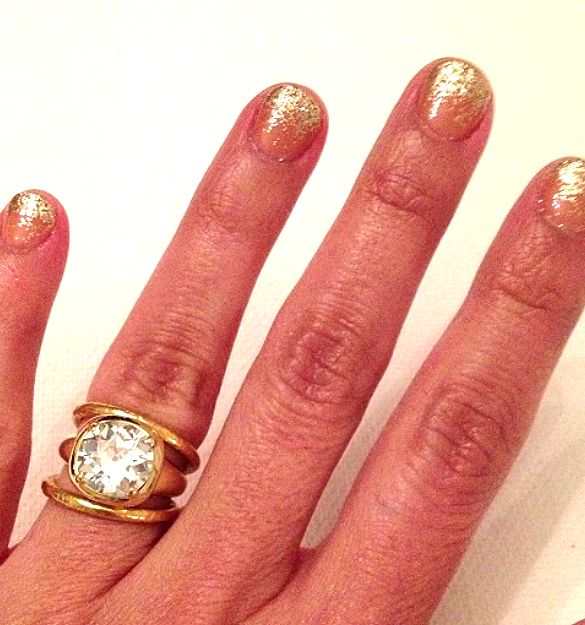 Let's have dinner at your favorite neighborhood restaurant. Where do we go and what do we eat?
I love Little Beast in Eagle Rock. Their menu changes seasonally and I love the cozy neighborhood feel.
If you could buy any piece of contemporary jewelry from another jeweler, what would it be?
We just got in a beautiful oversized turquoise pendant by Lucifer Vir Honestus that I have my eye on and I love Savannah Stranger's baroque pearls for their irregularity. As far as designers outside of our store, I would love a Sidney Garber rolling bracelet in rose and yellow gold.
The vacation spot that you keep going back to over and over?
Mallorca, Spain – it has become a second home for us and just feels right.
What's the last book you couldn't put down?
The Goldfinch – there have been others that I've enjoyed but I just LOVED The Goldfinch.
What's your go-to cocktail?
I love a good tequila cocktail – something with a little spice and maybe some fresh clementine oranges. Yum!
The gemstone you're currently lusting after is . . .
I'm a sucker for turquoise and green emeralds.
It's your birthday and your favorite flower arrangement arrives – what does it look like?
It ABSOLUTELY would not include any lilies! I love hydrangeas and peonies.
What's your favorite piece that you made in the last year and why?
We made a spectacular necklace for our debut at Couture. It's from our Cobblestone Collection – it's all beautiful vintage cut diamonds and just feels amazing on! (pictured above in slideshow)
You have 30 minutes to work out – what do you do?
I just got a water rower that I am trying to get acquainted with. If not, Cardio Barre.
What was the first piece of jewelry you bought for yourself?
A diamond tennis bracelet when I was in my early 20's
If you could have dinner with any artist, living or dead, who would it be and why?
Frieda Kahlo – an incredible spirit so ahead of her time.
Take a pic of the most sentimental piece of jewelry you own and tell us the back story.
A beautiful emerald and diamond ring my husband made for my 40th birthday. (This stunner is pictured above in our slideshow. Also, bravo, Ari!)
What's your preferred mode of transportation day-to-day?
Land Rover! The extra seats are a must for all of my kids and their friends. Plus, it's comfortable. If I could have my way though, I would ride a bike everywhere.
Top 5 bands in your playlist - go!
Journey, Beyonce, Fleetwood Mac, Coldplay, something in Spanish – need to mix it up a bit!
(Ed Note: Corina knows all the words to Drunk in Love and loves to sing it.)
You're having guests for the weekend. What's your signature dish that you cook for them?
Branzino on the grill, lamb chops, I make a killer ceviche. And, for desert a homemade fruit tart.
Be honest – who's your celebrity crush?!
It was Andy Garcia for the longest time. Not so sure anymore – Pierce Brosnan? Actually, Manish Dayal! I have a thing for Indian guys… my husband knowsI
If you could only carry one handbag for the rest of your life, what would it be?
Honestly, who could pick just one – a Birkin?
What's your signature scent and what three words would you use to describe it?
Something light and rosey although I'm currently loving Diptyque's Moheli.
If you could sit front row at any fashion show, which would it be and why?
I actually prefer a street scene much more than at the actual shows. I think what's happening on the street is much more interesting and original. (Ed Note: This is currently our favorite answer in the history of this question, ever, and we will be stealing it for when Vogue, er TV Guide, interviews us.)
Tell us your beauty secrets (think: can't-live-without makeup and skincare)
Absolutely love Dr. Hauschka's lip care stick and bronzer and I never leave home without mascara on my top lashes.
Signature nail polish and/or lipstick shade for a night on the town?
Usually dark on my toes (Lincoln Park After Dark by OPI) and natural fingernails. I usually just wear gloss on my lips.
There you have it, folks. Just standing next to Corina makes you chicer, so you'll thank us later for taking all of her tips to heart.
Shop Single Stone's eponymous collection & all the amazing brands they offer at shopsinglestone.com
xxFFR